Manga Review: Jojo's Bizarre Adventure Part 1: Phantom Blood Volume 02 by Hirohiko Araki
Quick recap: In 19th Century England, orphan Dio Brando comes to live with the wealthy and noble Joestar family.  In retrospective, they probably should have asked more questions about how he became an orphan.  Dio planned to supplant the heir, Jonathan "Jojo" Joestar, then murder his adoptive father for the inheritance.  It didn't quite work out that way, and Dio has been forced to resort to a stone mask with occult properties.  See my review of the previous volume.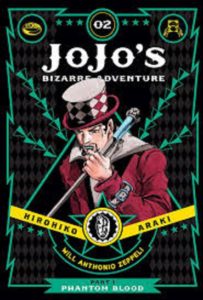 As this volume opens, the police riddle Dio with bullets, and his presumed corpse falls out the window. Jojo has a touching farewell with his dying father, who now recognizes his fault in treating Jonathan poorly.  The police inspector gives a long speech about how he should have exiled Dio's father Dario Brando to Australia with his family twenty years ago, but Lord Joestar had covered for the wicked man out of kindness.
Speedwagon suddenly notices that Dio's body has disappeared, but too late.  Dio is now a powerful vampire, and slices the police inspector's head off before draining the blood from another cop.  Being shot in the head doesn't even slow Dio down, and the blood allows him to regenerate.
What follows is the first of the awesome battles that the Jojo franchise is famous for, resulting in a narrow victory for Jonathan at the cost of his home.  While Jonathan recovers in the hospital and is reunited with his childhood sweetheart Erina Pendleton, the Chinese shopkeeper returns to the site of the battle to dig up the stone mask.  As it turns out, Dio is not quite finished.
Dio is badly wounded, and starts recruiting minions to do his dirty work while he recovers, starting with Jack the Ripper.
Meanwhile, Jojo and Erina meet Baron Zeppeli, an eccentric Italian nobleman with a connection to the stone mask.  It seems that when Zeppeli was young, his father was an archaeologist who led an expedition to Mexico, where they found the mysterious artifact.  Zeppeli's father tried it out on the ship home, and slaughtered the crew except Zeppeli before being struck by sunlight.  The stone mask vanished with the ship, and somehow wound up being purchased by Mrs. Joestar.
Baron Zeppeli has dedicated his life to tracking down the stone mask and destroying it, as well as the monsters it creates.  As part of this, he has learned the martial art "Hamon" which uses human breath to create ripples with the frequency of sunlight, deadly to vampires.  Zeppeli teaches hamon to Jonathan, who turns out to be a natural adept at the art.  (Unlike Speedwagon, who is nearly crippled by his one exposure.)
Erina is left behind as the three men pursue a vampire minion to Dio's new lair, an isolated village he's been draining dry.  They're lured into a trap by a hypnotized young thief, and Dio not only demonstrates an array of new powers, but summons two infamous knights as undead servants to fight the heroes!
This is the good stuff!  With the main plot now fully engaged and battles aplenty, there's plenty of nifty action with stellar art.  Zeppeli is a good addition to the main cast; his goofy mannerisms contrast his very serious personality.
There's a certain amount of biased history retelling regarding Queen Elizabeth and Mary, Queen of Scots that might boggle some British folks, as well as a combination of Victorian and 80's shounen manga sexism.  Araki doesn't shy away from showing mutilated corpses and body pieces being flung around during violent sequences.  The Chinese shopkeeper is also very stereotypical Yellow Peril in appearance.
If you're a fan of any of the Jojo anime series, you'll enjoy this as well.