Manga Review: Bleach Volume 10 by Tite Kubo
Ichigo Kurosaki is not your typical Japanese sixteen-year-old.  For one thing, he has naturally orange hair which makes him look like a delinquent.   But more importantly, he can see ghosts.  For some reason, his home city of Karakura Town is particularly inhabited by ghosts, and he can only very occasionally help out.  This gift also allows him to see the initially invisible to normals Rukia Kuchiki, who is a Soul Reaper charged with escorting ghosts to the afterlife and fighting Hollows, ghosts that have succumbed to despair and become monstrous.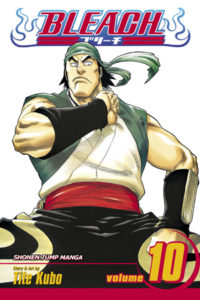 Rukia is badly wounded by the Hollow she's hunting, and in desperation transfers her Soul Reaper powers into Ichigo.  He turns out to be a natural at the combat part of the job, though he still needs a lot of guidance on everything not involving hitting things.  Ichigo's classmates Orihime Inoue and Yasutora "Chad" Sado also develop spiritual powers and begin helping him deal with the increasing Hollow problem.
However, someone in the Soul Society (the organization that controls the Soul Reapers) has accused Rukia of breaking their law by empowering Ichigo.  She's been abducted back to the afterlife to stand trial and be executed.  Ichigo is determined to go after her and rescue his friend, with the aid of Orihime, Chad and Uryu Ishida, an archer who belongs to the rival Quincy organization (or would, if there were any other Quincies left.)  It's not going to be a cakewalk!
Bleach is a shounen (boys') manga that ran in Weekly Shounen Jump from 2001 to 2016.  It was popular enough to spawn an animated television show and several movies, as well as video games and rock musicals.
The manga's primary strength, beyond its initial premise, is its many interesting characters.  Kubo is great at character design, and tended to introduce a new herd of characters whenever he got stuck.  This did, however, lead to a certain amount of cast bloat, so that fan favorite characters would often not be seen for many chapters as each new character got a moment to shine.
Kubo, in common with many other shounen creators, also had difficulty with keeping female characters in the fray.  Rukia loses her powers in the very first chapter, acting as an advisor to Ichigo until she starts to recover, at which point she's abducted and imprisoned for the Soul Society arc.  After being freed, she's mostly sidelined and gets maybe one good fight per arc.  Orihime picks up one of the most broken powersets in the manga, but is a pacifist so seldom uses it to advantage, and is abducted in the arc immediately following the Soul Society, spending most of it the prisoner of the main villain.  And the pattern for other female characters is similar.
The character art is good and it's usually easy to tell characters apart, but the backgrounds are often skimpy at best.
Back to the volume at hand, #10.  Our heroes, including Yoruichi the talking cat, have made it to Rukongai, the city where most of the Soul Society and their oppressed masses live.  (Seriously, this is not a pleasant version of the afterlife.)  However, the massive stronghold of the Soul Reapers, the Seireitei, is protected by an anti-spiritual energy barrier, and they were unable to get through the gate.
They have, however, managed to get temporary allies, the explosives expert Kukaku Shiba, and her surly brother Ganju.  Kukaku has a way to shoot a "cannonball" through the barrier with people inside.  Ganju will be coming along as he has a grudge against Soul Reapers involving his deceased brother.
Meanwhile, we look in on the Soul Reapers organization, briefly meeting more than a dozen new characters, some of whom will be important.  Most of them aren't villainous, all they know is that there are intruders in the Soul Society of unknown motive.  We also see that they have internal politics going on.
Upon arriving in the Seireitei, the group is scattered by a poor landing.  Ichigo and Ganju face off against the hot-blooded Ikkaku Madarame and dandyish Yumichika Ayasegawa of the 11th Division (known for its combat skills.)  Ichigo does very well against Ikkaku, considering, but Ganju is outmatched against Yumichika and has to resort to running.
Back on Earth, the minor characters form a hero group to keep Hollows from overrunning Karakura Town while their main defenders are away.  (This is primarily comic relief.)
The introduction of the Soul Reaper captains, several of whom will remain relevant for the rest of the series, makes this a key volume.   We already see foreshadowing of events that will come up much later.  On the other hand, this is also the beginning of the cast bloat that became such a problem later on.
I'd recommend starting with Volume One, and seeing if that's your thing–by this volume, we're into the long storylines that will dominate the rest of the series.