Book Review: Tuesdays with Morrie by Mitch Albom
In 1995, there was fighting in Bosnia, O.J. Simpson was on trial for murder, and a man named Morrie Schwartz was teaching his last class about life.  It met on Tuesdays, and the student was sportswriter Mitch Albom.  Twenty years before, Mitch had been Morrie's student in sociology classes at Brandeis University, and now that Morrie was dying of ALS, he reconnected with his old teacher for a series of conversations.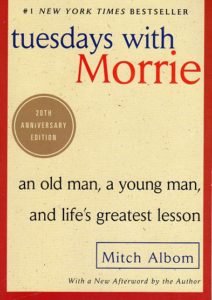 Like many people, Mitch's life after college hadn't gone as planned, his musical career not panning out.  After the early death of a beloved relative, his priorities shifted, and he found success in writing about sports.  But when he saw Morrie being interviewed by Ted Koppel on Nightline (the first of three interviews), Mitch realized he had lost touch with someone important to him, and the wisdom of that man.
Morrie Schwartz had been an unusual man all along, and had dedicated much of his years to learning how to live his own life.  He had developed a set of aphorisms that distilled this philosophy into understandable chunks.  When his amyotrophic lateral sclerosis (Lou Gherig's disease) began to take away his ability to engage in everyday activities, Morrie sent out his aphorisms into the world to those he thought might be interested.  And they brought the world back to him, notably Ted Koppel, and through him, Mitch Albom.
As it happened, a newspaper strike left Mitch with some spare time to come visit his old professor, and he made more time when they reconnected.  They decided that Mitch would come again and again on Tuesdays, a day that was special to them, and they would discuss subjects like death and marriage.  The plan was for Mitch to write a book the proceeds of which would help pay for Morrie's substantial medical bills.
This is that book, a bestseller that has spawned a TV movie and stage play, and changed many lives.  A new edition has been released for the twentieth anniversary, with a new afterword catching up with what's happened with Mr. Albom since the end of the book.
The book intersperses valuable lessons about life and related topics with flashbacks to their relationship in college and biographical information about Morrie that helps explain how he became the teacher so admired by so many people.
It's very well written; the outcome is known from the beginning, so the journey is the important part.  If what Morrie has to say sometimes seems trite or cliched, that's because much of it is things we already knew, even if we ignore them in the hustle and pain of everyday existence.
My one caveat is that sometimes this sort of philosophy has been weaponized against people who are suffering systemic poverty and oppression to tell them that they shouldn't fight back, but simply accept their lot.
The subject matter of death and dying may be a bit heavy for younger readers, but this book has been used in high school classes.
Recommended for people who haven't gotten around to this book yet who are interested in philosophy and life lessons.
Disclaimer:  I received a copy of this book from the publisher to facilitate this review.  No other compensation was offered or requested.
And now, a video of those Ted Koppel interviews.