Book Review: Inferior by Angela Saini
Disclaimer:  I received this Uncorrected Page Proof as a Goodreads giveaway for the purpose of writing this review.  No other compensation was requested or offered.  Some material may be changed in the final product, due out 5/23/17.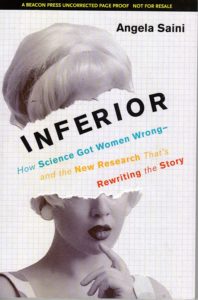 Today there was a news story about a member of the European Parliament arguing against equal pay for women on the grounds that "they are weaker, they are smaller, they are less intelligent."  Unsurprisingly, this MEP was male.  Equally unsurprising was the tongue-lashing he got from a fellow MEP who happened to be female.  But while it's unusual for a theoretically respectable politician to say these things in public nowadays, it is a current of thought that stretches back to at least the ancient Greeks.  And often science has been misused to justify such attitudes.
This book is mostly about the science of sex differences (that is, "how are men and women different?") and how that science has been interpreted over the years to justify sexism and resistance to social change on the subject, but also about contrary evidence and theories that paint a more egalitarian picture.  The author is an award-winning British science journalist who was assigned to write a piece on menopause but found enough material for this book.
The book begins with Charles Darwin claiming that women were less evolved than men for reasons.   Then it covers multiple subjects such as brain imaging and primatology on the way to the riddle of why women don't just die when they become infertile.  (The last has two major competing hypotheses named "The Grandmother Hypothesis" and "The Patriarch Hypothesis"; all the scientists that have gone on record as supporting the latter are male.)
There's a reference list for each chapter, and will be an index in the final product.  There may be illustrations in the published version; there were none in the proof copy.
A repeated theme of the book is the suggestion that many sex difference researchers started from "essentialism", the basic assumption that men and women are different in fundamental ways, and then did their research in such a way as to disproportionately focus on the ways the sexes are different, rather than similar, and sometimes even finding differences that don't appear to actually exist.  It's also notable that several male researchers come across as dismissive of research done by scientists (particularly women) whose results contradict their own theories.  One, for example, admits that he's never studied bonobos himself, but clearly  the research results found by a woman must be wrong since it's different from what he learned by studying chimpanzees.
The writing is clear and concise, and should be readable by bright high school students on up (although some parents may find parts of the subject matter, such as the existence of intersex people, uncomfortable.)  Recommended to those interested in science, feminism and the intersection of the two.