Manga Review: Platinum End Volume 3 Story by Tsugumi Ohba, Art by Takeshi Obata
Quick recap:  Mirai Kakehashi has had a miserable life as an abused orphan, but when he attempts suicide, he is rescued by an angel.  Nasse, the Angel of Purity, informs Mirai that he's been chosen to join a contest to determine the next person to be God.  Currently, Mirai is allied with his classmate and crush Saki Hanakago and her sponsor, Revel the Angel of Trickery.  They're opposed to the mysterious Metropoliman, who wears a superhero costume and has already murdered several God candidates.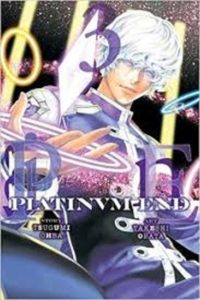 As this volume opens, Mirai and Saki have been tracked down by yet another candidate, Nato Mukaido.  He's a businessman who used to work in the fashion industry before he developed terminal cancer.  His sponsor is Baret, Angel of Knowledge.  Nato is pretty sure he's not going to survive the full 999 days of the contest even if he's not murdered, so his primary objective is not letting the amoral Metropoliman become God.
Nato isn't lying, so Mirai and Saki ally with him, despite Mirai's reservations about killing even in self defense.
We also learn Metropoliman's secret identity and part of his motivation for becoming God, which I won't spoil here.  His sponsor is Meyza, the Angel of Greed.  He needs a new plan to draw out his enemies, and takes inspiration from a friend.
Metropoliman breaks serial killer Mimimi Yamada out of prison and enslaves her using the red arrows of love.  He equips her with wings and red arrows, then gives her instructions of who to target.  The plan is to draw out God candidates who won't allow a superhuman serial killer to operate due to their own moral standards.
And it's at this point I need to issue a Content Warning:  A pre-adolescent child is placed in a sexual situation on-page before being murdered.
Our protagonists recognize that Mimimi is bait for a trap, but come up with a plan to deal with her that might not leave them too vulnerable to Metropoliman.  They might have underestimated the masked man's ruthlessness and access to resources, though, and things look dire at the end of the volume.
The art continues to be top-rate, and it's always fun to watch very smart characters attempt to outplan each other.
Nato's a good choice as an ally character, someone who temporarily outshines the main protagonist but is doomed by backstory, so will soon give back the spotlight.
Metropoliman:  To quote Brooklyn 99, "Cool motive.  Still murder."
Mimimi is much less interesting, combining the most irritating characteristics of Misa in Death Note with a skeeviness that is just repulsive to me.
And that's why I am not unreservedly recommending this series any more.  The skeevy parts made this volume much less enjoyable for me.  Approach with caution.