TV Review: Bulldog Drummond & Burke's Law
A couple more episodes from my DVD collection.
Bulldog Drummond was created by H.C. "Sapper" McNeile in 1920, after a prototype police officer version failed to get traction.  Mr. Drummond was an independently wealthy gentleman adventurer and veteran of World War One who got bored and put out a newspaper advertisement looking for excitement.  This being an action novel, he got it.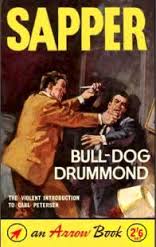 There were a bunch of novels, and eventually stage plays and movies based on the character.  Rousing stuff, but nowadays the novels are somewhat out of favor for xenophobia and anti-Semitism that is overboard even by the standards of the time they were written.  The TV episode is actually one episode of the anthology series Douglas Fairbanks, Jr. Presents.
In "The Ludlow Affair," Bulldog Drummond (Robert Beatty) is approached by the wife of an old friend, the titular Ludlow.  After being shot at and receiving a threatening phone call,  Drummond learns that his friend, a scientist, had developed a new antibiotic treatment with the help of his wife and another lab assistant.  The treatment would be worth millions if sold, but Ludlow planned to release it to the world as a public service.  And that's when he got kidnapped.
Drummond immediately suspects something is up from the way the wife keeps bringing up how much money the formula is worth.   With the aid of his manservant Kelly (Michael Ripper), Drummond  launches an elaborate scheme in which he steals the formula himself to smoke out the kidnapper, Mr. Caselli.  By the end, Ludlow is rescued and the crooks are being led away by the police, even though the Inspector has a feeling Drummond should be arrested too.
Bulldog Drummond does show a rather flexible approach to ethics in this episode, and if I were not aware of his background, would have assumed him to be a mostly reformed crook.  It's okay, but I can see why this didn't become a series on its own.
Burke's Law was an early 1960s series about Amos Burke (Gene Barry), a millionaire who was for some reason a captain of detectives and head of the Homicide Division of the Los Angeles Police Department.  He was chauffeured to crime scenes in a Rolls Royce.  Each episode would be titled "Who Killed (Insert Name Here)?" and featured a bevy of guest stars as quirky suspects.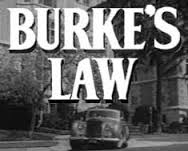 "Who Killed Jason Shaw?" begins with a rather odd young woman named Lucy Brewer coming into a hotel room she's rented to find a body in the shower.  She's about to call the police when she notices a rich spread of food, and decides to eat first.  then take a nap, then eat some more.  It's several hours later when Burke receives a female visitor who intends to stay with him, only to be interrupted mid-argument by the notice of the dead body.  (The visitor is not seen again in the episode.)
It turns out that Lucy was paid to rent the room in her name so that some wealthy men could use it overnight, and she could then use it the next day.  Lucy didn't ask any questions, and is not seen again in the episode.  The dead body is Jason Shaw, a wealthy businessman.  Eventually it is discovered that he participated in a high-stakes poker game with several eccentric rich men; an obsessive wine collector, a man who breeds flesh-eating plants (Burgess Meredith), a shipbuilder with a thing for Japanese fashion and experimental music, (who happens to be an old friend of Burke's) and a hostile used car dealer (Keenan Wynn).
Meanwhile, Burke has a passive-aggressive interaction with the plant breeder's daughter, a sculptor going under an assumed name so she can prove herself without Daddy's money; while his extremely efficient sidekick Detective Tim Tillson (Gary Conway) starts falling for Shaw's buttoned-up but very attractive secretary.
There's way too many characters crammed into a half hour, as evidenced by the one woman simply vanishing from the story altogether after her first and only scene.  It also has an overly high quirky quotient–any one of the guest characters could carry an episode by themselves, but all together they just clash.
I suspect this series would be watchable mostly for the Who's Who of guest stars, rather than for plot or characterization.