Book Review: Hunting Season: Immigration and Murder in an All-American Town by Mirta Ojito
Disclaimer:  I received this book as a Goodreads giveaway on the premise that I would review it.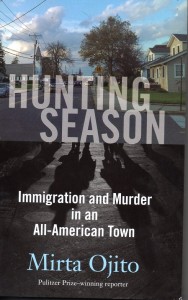 In 2008, an Ecuadorian immigrant, Marcelo Lucero, was murdered by a group of teenagers in Patchouge,  New York.  They had been looking for "Mexicans" to beat up in that suburb of New York City.  This shocking crime made headlines, and exposed a lot of raw nerves about immigration issues in America.
Mirta Ojito is a Pulitzer Prize winning journalist, and briefly talks about her own experience as a Cuban refugee.
Much of the book is taken up by short biographies of the people involved in the case one way or another, from the victim to the killers to the mayor of Patchouge.  (None of the people convicted of the murder consented to be interviewed for the book, and only two of their parents, so some biographies are very short.)
There's a look at the various circumstances that combined to make the incident happen:  demographic shifts, a changed pattern of immigration that brought unassimilated migrants straight to suburbia instead of the inner city, racism, economic woes, portrayal in the media of immigrants as "invaders", small town boredom, and a poisonous political atmosphere.
The mayor of Patchouge, Paul Pontieri, comes off pretty well.   He was late realizing that there was a problem with anti-immigrant violence in his town, but actually had plans for dealing with it just before the killing took place.  The tragedy accelerated those plans.
By comparison,  Steve Levy, county executive of Suffolk County, comes off pretty badly.   He campaigned on fairly heavy anti-immigration policies, even co-founding a group called Mayors and Executives for Immigration Reform that seeks local ordinances to restrict undocumented immigrants further than they already are.  But he never specifically called for violence.
As well as the effect on Patchouge of immigration issues and the murder, the book looks at the effect these have had on Lucero's home town of  Gualaceo.  The money sent home by migrants has allowed the town to become prosperous again after years of economic depression, but at the cost of its hardest-working and most ambitious citizens
As the book points out, this was neither the first or last time an immigrant was killed by Americans for the sin of not being "one of us", but perhaps we can learn lessons here to lessen future violence, and find new ways of incorporating immigrants into our society.
Recommended for true crime readers, and those interested in immigration issues.  Check it out at your library.