Book Review: Things That Are by Amy Leach
"The secret to crypsis is placing yourself among things you look like, but in a scene where no one will expect you, like Willie Nelson with Lithuanian peasants."
Essays are short pieces in which the author attempts to set down their thoughts.  They can be formal or informal, informative or fanciful.  This book is a set of prose essays by Amy Leach, collecting them from various previous publications.  The title is inspired by an epigraph from John Donne.  Inside, the essays are divided into "Things of Earth" (primarily plants and animals) and "Things of Heaven" (primarily space objects.)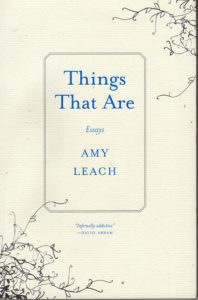 Ms. Leach's language is poetical and heavy on the similes.  I am happy to report that it works most of the time, and is pleasant to read.  The words flow smoothly as the ideas dance from one related topic to another.  My personal favorite of the essays is "Goats and Bygone Goats" as my family raised these creatures on our farm long enough ago that many of the memories are pleasant.  The essay "God" on the other hand came across as pretentious.  And "The Safari" just goes on and on with its extended animals as memories metaphor.
The edition I have is from Milkweed Editions, with rough-cut pages and illustrations by Nate Christopherson.  I like the illuminated beginning capitals.  There's a short glossary at the end that sometimes makes certain words clearer in meaning.
These short, calm pieces make the book a good choice to read between heavier or more emotionally demanding material; this is a good book to read before bedtime, or sipping a cup of tea.  It also sounds good read aloud.
Recommended to…just about everyone, really.