Book Review: Jefferson's America by Julie M. Fenster
In 1803, many people in the fledgling United States expected a Louisiana War, as the Spanish had forbidden American shipping from passing down the Mississippi and through the port of New Orleans.  That didn't happen, as the Spanish were induced to yield the Louisiana Territory to their allies the French.  France's then-leader, Emperor Napoleon, said he would "never relinquish" the territory.  But when European troubles drew his attention, the French offered to sell Louisiana to the Americans for a cool fifteen million dollars.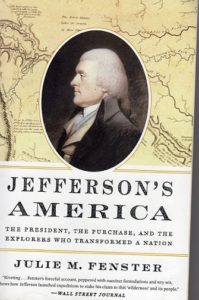 President Thomas Jefferson got the U.S. to pay the money, but other than the important ports of New Orleans and St. Louis, it wasn't clear what all was included in  the Louisiana Purchase.  Someone had to be sent out posthaste to learn river routes through the territory, and apply some scientific curiosity to what might be found there.  And so he chose the men of Jefferson.
This book is primarily about six men who led expeditions into the West, and the outcomes of those adventures.  Meriwether Lewis, Jefferson's personal secretary and a man who suffered bouts of depression. William Clark, younger brother of a Revolutionary War hero who had been cast aside by his country.  William Dunbar, slaveholder and scientist.  George Hunter, a chemist bent on making his fortune.  Thomas Freeman, one of the surveyors that laid out Washington, D,C,  And Zebulon Pike, an United States Army lieutenant who was intrepid beyond all reason.
It's emphasized that other than Lewis, most of these men were not Jefferson's first choices.  Many better trained people simply didn't want to risk their lives on perilous journeys, or couldn't get away from previous commitments.
Of course, they are not the only people covered in this history text.  We also meet the legendary Sacajawea, without whom Lewis & Clark might well not have made it past the Shoshone.  Aaron Burr, who you may remember from that recent musical.  Blackbird of the Omaha, whose dinner invitations you should find a way to politely refuse.  And many others.
The story is primarily chronological, and skips back and forth between expeditions happening at the same time.  But it's not all "this happened, then that happened."  There is room for a certain amount of editorial opinion, and oddball moments.  The book begins with a visit to New Orleans in 1820 by John James Audubon, who was later to gain fame painting birds.  At the time, he was seeking wealthy patrons who needed their portraits done, to fund his passion.  He met one of the famous Jeffersonian explorers, who alas had not aged well.
While the book is matter-of-fact about the issue of slavery, including some of the worst consequences of the system, it very carefully does not mention Jefferson's own slaves, even when talking about his time at Monticello.  I have to wonder if the author felt she'd have to put in another chapter just to explain President Jefferson's complicated relationship with slavery and felt it best to avoid the issue.
The treatment of Native Americans is more directly dealt with, as they occupied parts of the lands the explorers were moving through.  There's quite a bit of politics involved, both between tribes, and their relationships with the various nations who wanted their goods or land.  Zebulon Pike is mentioned as having noticed that the introduction of strong liquor as a trade good was distorting tribal life.
There are many direct quotes from letters and journals, and these are sourced in the extensive endnotes.  There's also a bibliography and index, several maps, and a thin section of illustrations in the center.
The age of Jeffersonian exploration lasted only a few years, but established the workability of scientific expeditions into the wilderness, rather than just cash and land grabs.  It's briefly mentioned that unlike the slapdash American expeditions, the Spanish science explorers under Carlos III were well-trained and equipped for their journeys–it's just that they'd never gotten around to the Louisiana Territory.  (I would like to read more about those expeditions, please.)
I found this book a pleasure to read, and recommend it for senior high students on up (there's some frank talk about sex) who are interested in this period of history.
Disclaimer:  I received this volume through Blogging for Books to facilitate this review.  No other compensation was offered or requested.
And now, more about Sacajawea: