Book Review: Pitch Perfect: How to Say It Right the First Time, Every Time by Bill McGowan and Alisa Bowman
Disclaimer:  I received this book from a Goodreads giveaway on the premise that I would review it.  My copy was an uncorrected proof, and there will be changes in the final product.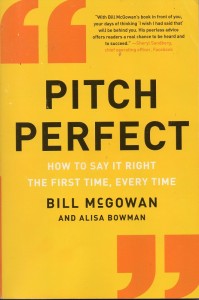 Mr. McGowan begins the book with a story about how he learned an important lesson about communications skills by being punched in the face.  Because if the person he was talking to had learned some of the skills taught in this book, they'd have had a better response than punching a reporter in the face on camera.  No matter how obnoxious the reporter is.
In his work as a television reporter and producer for such shows as A Current Affair and CBS News, Mr. McGowan learned many valuable lessons about speech and nonverbal communication, which then served him well as a communication coach to celebrities, corporate managers and other people who needed a hand up.
This book covers most of the information he tells his clients, from preparing for speaking ahead of time, to making sure your most important material (and only your most important material) is front and center, to the best way to stand and place your hands during a speech.  It doesn't include the specific personal coaching he gets the big money for, but offers tips on how to spot your weaknesses yourself and overcome them.
Throughout, the writers tell stories from Mr. McGowan's career, and from the media presentations of famous people, that illustrate the points.   There are some illustrations in the section on body language and facial expressions (you can train to show the interest you actually feel, rather than a blank stare.)
I found the book well-organized and easy to read, with many helpful tips.  It should be useful for a wide variety of people from job-seekers like myself to the person who's suddenly called upon to say a few words at a wedding.  There is a glossary, but no index was in the proof copy–it may be added for the published version.
I know that I have seen many examples in my own life of people who could use a bit more help with their verbal communication skills, and hope that some of them will find this volume.