Book Review: The Naturalist by Darrin Lunde
Theodore Roosevelt (1858-1919), 26th President of the United States of America, was big on nature.  Specifically, he had a strong interest in natural history, and wanted to become/be known as a naturalist.  This new biography focuses on that part of Roosevelt's life, from his boyhood collection of stuffed birds to his African expedition for the Smithsonian Institute.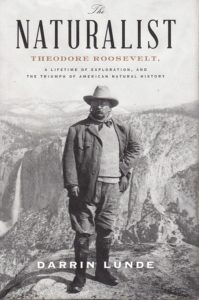 The author is himself a museum naturalist, so the narrative is perhaps a bit biased in favor of those who go out to collect specimens for natural history museums.  Roosevelt considered himself a "hunter-naturalist", someone who went out, observed nature carefully, then killed animals for scientific study.  Sickly as a boy, with bad asthma, Teddy had to re-invent himself several times in his youth.  He worked hard to build up his body and mind, engaging in outdoor activities and especially learning about animals in nature.  His family was involved with the founding of the New York Museum of Natural History, which gave him a head start.
Interestingly, Roosevelt's choice to go to Harvard seems to have doomed his ambition to become a full-time naturalist–according to this book, the college's natural history program was dominated by laboratory work, not the field expeditions Teddy favored, and he met his first wife and realized that a naturalist's pay wasn't going to keep them in the style they were used to.
Instead, Roosevelt studied law and got into politics, with the results I mentioned in the first paragraph.  While he certainly made some headway as President, including creating America's first wildlife reserves and other environmentally friendly actions, Teddy chafed at not being able to hunt properly and the last months of his term were largely taken up with preparations for his African expedition.
There were many bits of knowledge in this book that I either had not known before or had long forgotten.  Theodore Roosevelt's poor vision meant that he was a bad shot, and often had to use far more bullets to bring down specimens than was ideal (and sometimes this meant he wound up killing more animals than he wanted!)
I found the literary feud between Roosevelt (and other scientifically-oriented naturalists) and the "sentimental" nature writers as exemplified by the Reverend William J. Long interesting.  Dr. Long heavily anthropomorphized the animal behavior in his "non-fiction" stories, and often depicted events that were so unlikely that naturalists accused him of just making things up.  (Side note:  I looked up Dr. Long's work and among other things he penned an entirely serious book on the subject of animal telepathy-not just non-verbal communication, telepathy.)  In response, Dr. Long said that President Roosevelt could only touch the hearts of animals…with bullets.
The book stops with the aftermath of the successful African expedition-the less happy Amazon expedition does not get mentioned at all.  As is common with these specialized biographies, any parts of Roosevelt's life that did not have a bearing on natural history get short shrift, and the serious student should also read a more general biography to get a balanced picture.
A heavy emphasis is placed on how Roosevelt's practical experience with hunting influenced his ideas on conservation.  He could see with his own eyes how over-hunting was wiping out game animal populations, even within the span of a few years.
There's a center section with black & white photos, and a few more scattered through the book.  There are extensive end notes, a bibliography and index.  Bright senior high students should be able to handle the material and language.
I enjoyed this book, and would recommend it to those interested in Theodore Roosevelt, natural history and the role of hunters in nature conservation.
Disclaimer:  I received a copy of this book through Blogging for Books for the purposes of this review.  No other compensation was requested or offered.