Manga Review: The Birth of Kitaro by Shigeru Mizuki
Blood bank worker Mizuki (no relation) is sent to investigate a report of tainted blood provided by his business, which has turned a hospital patient into the living dead.  Narrowing down the possibilities, Mizuki is startled to learn that the blood donor put down his, Mizuki's, address!  It turns out there are squatters in the abandoned temple out back of his house.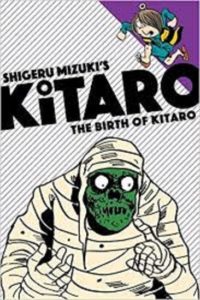 These squatters are yokai, a married couple who are the last of the Ghost Tribe.  Once, the Ghost Tribe was numerous, and lived all over the country.  But as humans encroached on their territory, the Ghost Tribe was forced first into the wilderness, then underground.  Over the years, their numbers have dwindled, until these two and their unborn child are all that remain.  The wife sold her blood to buy medicine, as both of the yokai are ill.  Out of pity, Mizuki agrees to keep their secret until the baby is born.
Months later, Mizuki visits the temple to find both of the yokai dead, and buries them.  But their child, Kitaro, lives, and Mizuki adopts him, even though he is repulsed by the sight of the little monster.
GeGeGe no Kitaro is Shigeru Mizuki's best known work, a horror manga for children.  According to the introduction, he took inspiration from Hakaba  Kitaro (Graveyard Kitaro), a kamishibai (paper theater) performance series that had been popular before World War Two.  Most of the records of the series were destroyed during the war, but Mizuki took what was known and refashioned it for 1960s children.  It was an enormous hit, and there have been numerous anime adaptations.
This volume collects "best of" stories from the Kitaro series, rather than have them in order of publication.  Thus, Kitaro's character design is very different in the first chapter, before he's learned to groom himself.  Eventually, Kitaro is kicked out of Mr. Mizuki's house to fend for himself with the aid of Medama Oyaji (Eyeball Dad), the animated eyeball of his deceased father.
The remainder of the stories in this volume guest star Nezumi Otoko (Rat Man), a filthy, greedy fellow who constantly tries to find ways to profit from foolish humans and other yokai.  Often, he's personally responsible for the peril that Kitaro must deal with, but other times Nezumi Otoko just finds a way to chisel some extra yen from the situation.
Another recurring character that makes an appearance is Neko Musume (Cat Daughter), a part-feline girl who is Nezumi Otoko's natural enemy.  Kitaro uses her to convince the rat to give back all the money he'd swindled from a group of humans to grant them a form of immortality.  In this early story, Neko Musume is much less pretty than later adaptations make her.
In the early chapters, Kitaro isn't too fond of humans due to being bullied for his hideous appearance and strange behavior; as he gains a heroic reputation the humans become friendlier and Kitaro reciprocates.  However, he knows that he can never be fully welcome in human society and wanders away at the end of most stories.
There's a variety of yokai in this series, the most difficult to defeat is the gyuki (bullheaded crab), because anyone who kills the gyuki, becomes the gyuki!  Kids tend to be important in the stories, either as potential victims or the ones who call Kitaro in.
At the end of the volume are pocket descriptions of the yokai in this volume, and activities for kids like a maze and word search puzzle.
Keeping in mind that what the Japanese consider suitable for children varies from what many American parents will accept (there's some rear male nudity, and people die), this would be a great gift for a horror-loving elementary school kid.