Book Review: Green Kills by Avi Domoshevizki
Disclaimer:  I received a download of this book through a Goodreads giveaway for the purpose of this review.  No other compensation was offered or requested.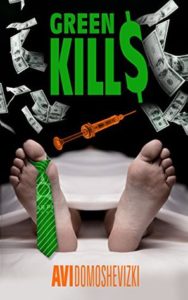 Ronnie Saar knew venture capital was a cutthroat business when he agreed to become a partner in one of the top firms.  He just never expected that to be literal!  The Israeli businessman is put in charge of safely delivering a pharmaceutical startup through the final phases of its funding as their product undergoes drug trials.  His job becomes much harder when the president of the firm commits suicide (or does he?) and two patients dosed with the new drug die on surgical tables.
The company's value to investors is plummeting, and Ronnie is getting pressure from all sides to make a quick sales deal.  His pride as a financial professional is on the line–and it's distracting him from whatever is wrong with his fiancee Liah at a critical point in their relationship.  Ronnie should be able to trust his old friend Gadi, a security specialist, but Gadi's been acting strangely too….
This is the first book in a planned series, and I believe the first published novel by this author.  Mr. Domoshevizki is according to his bio an entrepreneur and venture capitalist, and both the financial workings and details of drug trials ring true.  There's a couple of footnotes to explain details.
There are,  however, a number of problems with the book that seem typical of first novels.
The first is that Ronnie is very much an exaggerated and more successful version of the author.  He's already a multi-millionaire at the opening of the story, having gotten a golden parachute from the buyout of his own start-up company.  It's not clear why he feels the need to join a venture capital firm; his stated reason would be a motive for keeping the job once it turned sour, but not for taking the job in the first place.
Much is made of Ronnie's previous service in Israeli covert ops, but it comes to nothing.  More relevant is his flashback to making friends with Gabi, though Ronnie comes off a little too good to be true in his retelling, and I can't tell if that's supposed to be deliberate.
The dialogue is often clunky, and the author relies more on tell than show.  One grating moment has the narration tell us that the reason a character uses another character's name when addressing him was to make the sentence sound more personal.
Speaking of names, the narration stubbornly refuses to give a major character one, resulting in clumsy workarounds.  And eventually we learn there was never a reason the name had to be hidden from the reader to begin with.
Liah's subplot feels contrived and inserted to amp up the drama rather than organic to the story, resolving mainly off-stage.  (Content warning: discussion of abuse.)
There are also perhaps too many red herrings–Ronnie's partners at the venture capital firm are acting shady from day one, well before any of the action starts.  And there's an encounter with a sinister-seeming fellow whose name raises Ronnie's suspicions, but then vanishes from the story altogether.
All that said, there's the germ of a good book here.  The overall plot is nicely complex, several scenes are genuinely suspenseful, and Gadi is the best of the characters, competent and roguish.  A competent editor could have improved this book immensely.
If the author steps up his dialogue game and tightens his prose, his next potboiler could be much better.