Book Review: Wolf by Kelly Oliver
Disclaimer:  I received a download of this book through a Goodreads giveaway for the purpose of writing this review.  No other compensation was offered or requested.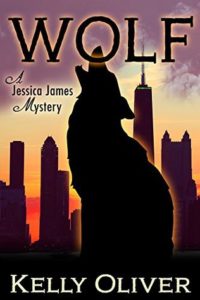 When philosophy professor and cad Wolfgang "Wolf" Schumtzig is found dead in his office bathroom of an apparent heroin overdose, it causes difficulties for several people, two of whom are our protagonists.   Jessica James is a graduate student whose thesis adviser he was, and she desperately needs that doctorate if she's to escape her background as Montana trailer trash.  Too bad she can't tell the police everything she knows, as Jessica is already up to her neck in illegal activity!
Meanwhile, janitor Dmitry Durchenko is in hiding from the Russian mob.  Well, kind of.  The Russian mob knows who and where he is, and have known for ages; they just haven't gotten around to telling the one head mobster who would really care.  For reasons.  Dmitry inadvertently shared some secrets with the murdered professor, and needs to get those secrets back before he winds up dead himself.
Mostly apart, but sometimes together (as Jessica's best friend is Dmitry's highly competent daughter Lolita) the two must navigate a complicated stew of poker, missing paintings, drug dealers, office politics, gangsters and academic misbehavior to come out alive.
The good:  The author has shoveled in all the things she likes, plus some extra research, and there is always something going on, plus some extra plot twists to keep the story moving.
The less good:  This is a first novel, and it shows.  From the protagonist who shares far too much of the author's background and interests, through some badly managed twists that come out of nowhere, to heavy-handed treatment of campus rape (attempted only on page), there are many signs that this book needed a firmer editor.
The murderer was blindingly obvious from about the quarter mark on, and Jessica's blatant inability to add two and two to make four until a few pages before the end of the story was endlessly frustrating.    I get that the idea was to make her a lovable underdog, but Jessica's constant pratfalls and unwise consumption of drugs and alcohol did little to endear her to me.
Dmitry comes off a bit better, despite the author's insistence on shoving in gratuitous Russian words; he's got reasons to be morally complex.  His cousin Vanya is a despicable little man, but becomes more bearable as the story carries on.  Lolita, on the other hand, is a smug little viper who the reader is clearly supposed to like, but comes off as one disfiguring accident away from being a comic book villain.
Most of the college students come across as not the sort of people I would have wanted to hang out with back in the day; heavy on the party and self-centeredness.    There's mean-spirited jabs at fat people, and the one visible non-white character is described as having "cocoa skin."
This is the first of a series of Jessica James mysteries; I can only hope the author improves quickly.
Recommended to college students who need a quick read on airplanes or buses.