Comic Book Review: Roy Thomas Presents: Planet Comics, Vol. 1
Comic books were still a very new thing in 1940, and the publishers were still trying to figure out what there was a market for.  Science fiction themes seemed popular, so Fiction House created the pulp-inspired Planet Comics to appeal to fans of rockets and aliens.  This volume collects the first four issues, including some of the advertisements.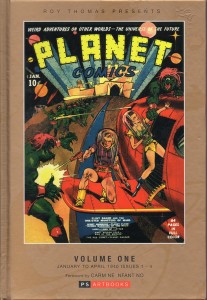 After a brief introduction by Carmine Infantino, which is mostly about the fact that he had nothing to do with any of the included material, we get right down to some luridly colored adventures.  Dick Briefer was the artist on "Flint Baker and the One-Eyed Monsters of Mars", the first story in the volume and perhaps the most complex.  Mr. Baker has designed and built a spaceship, but no sane people want to go on a trip to Mars with him.  So he pulls political strings to have three murderous mechanics freed from Death Row if they'll volunteer for the voyage.
After takeoff, it's discovered that Mimi Wilson, a reporter for the New York Globe, has stowed away on the ship.  Flint is quickly *ahem* convinced to let her stay aboard.  The three convicts tell their stories, and amazingly, all three of them were actually guilty.  The first one does claim self-defense, but the second decided to shoot his sister's fiance at the altar on the grounds that he was "rotten."  The third man, Grant, claims to have been forced to murder by a mysterious man with hypnotic powers.  Hmm….
It turns out that Mr. Baker's is not the first expedition to Mars.  As the ruler of the light side of Mars and his daughter Princess Viga explain, the Earthmen were criminals, and exiled to Mars' dark side (protip:  Mars does not have a "dark side") where even now they plot to conquer the peaceful Martians.  The word "they" turns out to be misleading.  Their leader, Sarko, has murdered the others and seized control of an army of one-eyed monsters.
There is a fierce battle, during which the named women are captured, and the King of Mars gives up.  The Earthmen are made of sterner stuff and infiltrate the enemy headquarters.  Sarko is planning to kill Viga to prevent any opposition to his eternal rule, and is going to give Mimi immortality to be his Empress.  Turns out that Sarko was the man who forced Grant to murder and then left him in prison to rot–they both wind up dead.  But more adventures next month!
Other standout characters are the Red Comet, a mystery man who can shrink and grow at will thanks to a special belt, Amazona, last woman of a superior Arctic race, and Auro, Lord of Jupiter, who was raised by a saber-tooth tiger.  Spurt Hammond is not so special in and of himself, being a standard two-fisted space pilot, but he battles the Lunerzons, woman warriors of the Moon with a vaguely Chinese culture, who are easily defeated when their leaders both get the hots for Spurt.

The design aesthetic is very pulp SF, which leads to some fascinating spaceships and cityscapes.  But much of the art is crude, and some of the stories have lazy pages of big panels with little art in them.  Often the stories are disjointed and somewhat nonsensical; this is most obvious with the Fletcher Hanks "Tiger Hart" piece which is apparently a medieval story with a couple of word balloons edited to make it happen on Saturn.
There's no real depth of theme in these stories, just plenty of action.  Be warned, there's some period racism (seriously, a global invasion by what appear to be Eskimos?) and sexism.  For most people, I'd recommend checking to see if you can find this through your public library.  Only the most fanatical Golden Age collectors (like me) are likely to want to own it.