Book Review: An Unkindness of Ghosts by Rivers Solomon
Something has gone drastically wrong aboard the generation ship Matilda .  Centuries after it left the uninhabitable Earth, the ship seems no closer to its destination, if there is in fact a destination at all.  Society has become stratified, with the darker-skinned humans confined to the lower decks, called "Tarlanders", and treated like servants at best and often like animals.   Those on the higher decks justify this with their religion, which puts straight white men above all others, who are sinners.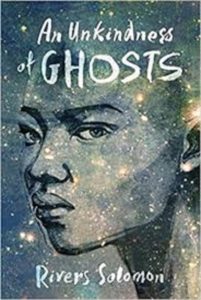 Aster is one of the few medics available to those below decks.  She's something of a genius, and has been allowed to study under/assist the ship's most esteemed doctor, the Surgeon.  (She knows him as Theo.)  That doesn't excuse her from backbreaking work in the field decks under the whip-wielding overseers, though.
Recently, the Matilda has been suffering a series of blackouts for the first time in a quarter-century.  Lieutenant, Theo's cruel uncle and de facto ruler of the ship, has decided that the lower deck people are somehow overloading the power and cut the heat to that part of the ship to "conserve energy."  The oppressed are suffering, and Aster has been called to amputate a child's gangrenous foot.
After this gruesome task, Aster returns to her secret botanarium where she grows medicinal plants and performs scientific experiments.  Her childhood friend and confidante Giselle is there and being contrary as usual.  More surprisingly, the Surgeon arrives.  Theo needs some of Aster's special steroids for his post-polio pain symptoms, and also her help.  The Sovereign Nicolaeus, official ruler of the ship's people, is dying of a mysterious illness, something Theo has never seen before.
Not having any great love for the ship's government, Aster turns Theo's request down.  But then Giselle reveals that she's been reading the journals of Aster's long-missing mother Lune, and cracked some of the code they were in–Lune had the same symptoms as Nicolaeus during the last series of blackouts, twenty-five years ago.  Is there a connection?
Aster is a protagonist very different from most I've read, being gender ambiguous (but using female pronouns) and having some form of neurodivergence.  The latter is both a strength and a weakness for Aster; it gives her insights that others might miss, but also makes understanding subtleties of language difficult for her to parse.   Metaphors are hard for Aster to grasp, thus her failure to notice that the anomalies in Lune's journal entries were deliberate.
Most of the book is told in tight third-person following Aster, with three first-person chapters where other characters inform the reader of things Aster is unaware of or not present for.
The storyline largely consists of Aster reacting to other people's actions; until near the end her few attempts at being proactive backfire.   Theo (who has many secrets) and especially Giselle (never stable, but having gotten worse after much abuse) are far more active, but are mostly off-page doing their things.  The vile Lieutenant seems to relish making life more complicated, deluded by his self-justified mindset.
Matilda's society is a pretty clear metaphor for the American South during slavery and Jim Crow (mixed together as needed) and this can come across as heavy-handed from time to time.  We get very little background on how it turned out this way, although one bit of history suggests the social stratification was there from the beginning.
Content notice:  rough language, implied rape, physical and mental abuse, and torture.
The conclusion drastically changes things; there is room for a sequel, but the society will not be the same.
Overall, a mixed bag.  An interesting protagonist and unfolding of events, but often heavy-handed and some key elements seem to be there simply to create the desired metaphor.
Note:  I got this book through PageHabit, so my copy has author annotations on Post-it notes inserted throughout.  This was an interesting extra dimension, but my financial circumstances make it unlikely I'll order from this vendor again in the near future.