Movie Review: The Chinese Cat (1944) directed by Phil Rosen
Six months ago, Thomas P. Manning, businessman and chess expert, was shot to death in his study, the door locked from the inside.  The police have been unable to solve the case.  Daughter Leah Manning (Joan Woodbury) is dismayed to discover that a new book has come out, a roman a clef that accuses her mother of the murder.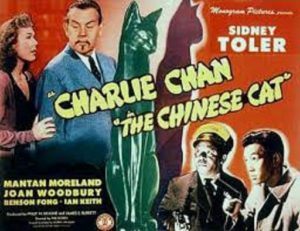 Leah learns that famous detective Charlie Chan (Sidney Toler) is in town, and rushes to his hotel.  She instead finds his #3 son Tommy (Benson Fong) there, which turns out to be a good thing.  Tommy's a sucker for a pretty face, and convinces his father to take the case.   However, the elder Chan must catch a flight out of town in 48 hours, so there's no time to lose!
Charlie Chan was invented for the 1925 novel The House Without a Key by Earl Derr Biggers.  He was inspired by real life Honolulu police detectives Chang Apana and Lee Fook.  Mr. Biggers did not like the stereotyped "evil Chinaman" so common in media of the time, so wrote Chan as a hero and clever detective.
Because of the way Hollywood worked back then, movie adaptations of Charlie Chan did not succeed until a white actor wearing heavy "Oriental" makeup was placed in the central role.  Chan was also made somewhat more "stereotypical" by spouting fortune-cookie aphorisms, a move Mr. Biggers did not like.  Nevertheless, Warner Oland's performance was big box office, and Asian actors were allowed to be in lesser roles, such as Keye Luke as #1  Son Lee Chan.
When Mr. Oland died, the role was taken over by Sidney Toler, who played Chan with a bit more bite to his personality.  He enjoyed the role so much that when Fox stopped making Charlie Chan films, Mr. Toler purchased the rights and got Monogram to continue the series.
The Chinese Cat is one of these late-period films.  The budget had been slashed, and fog is used to minimize the amount of detail needed in outdoor scenes.   Much of the runtime is taken up by the comedy antics of feckless Tommy Chan (who is away from college for reasons he never actually explains) and chauffeur/taxi driver Birmingham Brown (Mantan Moreland.)  The latter character has also been somewhat controversial, as he plays into stereotypes about African-Americans at the time, servile and superstitious.  The act doesn't come off as badly as in some of the other Chan films I've seen.
Ian Keith has a nicely sinister turn as Dr. Paul Recknik, the criminologist who wrote the accusatory book, and believes that police detective Harvey Dennis (Weldon Heyburn) is shielding Mrs. Manning because he's sweet on Leah.
Charlie Chan, of course, quickly realizes the importance of a couple of clues the police overlooked, and uses his Chinatown connections to establish the real motive for the murder.  Then there's a big showdown in a fun house that's been closed down for the duration of the war.  (The World War Two setting is also reflected in the tight transportation schedule Chan has, and a mention of the Chinese War Relief Fund.)
Keeping in mind the time period in which this film was made and the cultural milieu, this is a fun, light entertainment piece.  Parents of younger viewers may want to explain the concepts of "yellowface" and limited roles for minority actors to their offspring.