Book Review: Legacy by J.F Bone
Sam Williams used to be a combat medic, until he got a little careless and had half his face radiated off during the Gakan "punitive expedition."  After a punch-up with a pencil-pusher who got a little personal about Sam's appearance, the battling medico was invalided out and sent back to Earth.  Except that a "clerical error" got him stranded on the desolate mining world of Arthe instead.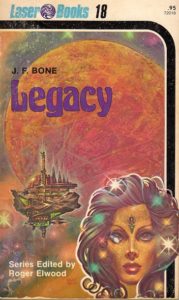 While waiting for his paperwork to clear up, Sam gets his face partially fixed (the radiation damage prevents a complete restoration with the available technology), and joins the planetary police force.  As it happens, Arthe is having a problem with a drug named Tonocaine that is hideously addictive and drives the user out of their mind.  Soon, Dr. Williams is going undercover as a full-time doctor to find the source of the narcotic.  What he doesn't know is just how big this drug ring is…or their terrifying true purpose!
Laser Books was a short-lived science fiction imprint from Harlequin (better known for their category romance) and edited by Roger Elwood.  They had a very standardized packaging–a precise length requirement, covers by Kelly Freas, and a bowdlerization clause in the contract that allowed Mr. Elwood to remove elements Harlequin did not approve of without consulting the author.  That last bit angered some writers when they saw the finished product.
Dr. Jesse Franklin Bone was a military veterinarian (Lieutenant Colonel) as well as a science fiction author, and he does a reasonably good job of making Sam Williams convincing as a doctor/fighter.  What Sam isn't very good at is being a detective–he keeps making impulsive judgments, which land him in hot water (often admitting these mistakes in the narration!)
There's definitely an E.E. "Doc" Smith influence here with the description of Tonocaine, and the legacy of the title, an alien object so fearsome yet desirable it is known only as "The Power."
Much is made of Sam's love interest Sofra being a virgin before marriage, in a way that may make modern readers cringe a bit.  (Meanwhile, Sam's virginity or lack of same comes up not at all.)
While actual sex is not on-stage, it's made clear that prostitution is rife in the mining town where much of the action takes place, and an even nastier trading community Sam spends some time in.  A subplot concerns a man who has impotence (never directly called that) who beats women half to death as a substitute.  Sadism is treated as an evil trait.
There's a lot of regular violence in addition to the sexualized variety mentioned above, including a lovingly described and brutal hand-to-hand struggle at the climax that goes on for pages.
Also, what SF fans call "fantastic racism."  The "natives" of Arthe are human colonists who were isolated for a couple of thousand years, became severely inbred, and adopted a primitive nomadic lifestyle.  There's a substantial subculture of "Breeds," people who are the offspring of liasons between the natives and more recent visitors from off-planet and considered inferior by both.  At the beginning of the book, the lizard-like inhabitants of Gakan are referred to by ethnic slurs.
All that said, Dr. Williams running around like a medical version of Jonah Hex is kind of cool and this is definitely a men's adventure book.  Worth having for the Freas cover, if nothing else–check used book stores and garage sales for this and other Laser Books.