Anime Review: The Rose of Versailles
In the Year of Our Lord 1770, Empress Maria Theresa of Austria and King Louis XV of France decided to seal an alliance between their countries with a political marriage.  Thus it was that Louis-Auguste (later Louis XVI) and Marie Antoinette were married.  So it was in our world too.  But in this story, the commander of the Royal Guards, protectors of the young princess, was Oscar Francois du Jarjayes, youngest daughter of General Jarjayes, who had been raised like a boy.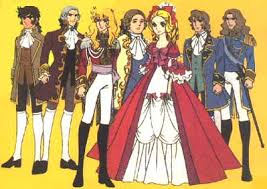 Soon Antoinette, Oscar and Oscar's faithful servant Andre, were plunged into the swirling politics and complicated romantic relationships of the court.  Thus begins the ultimately tragic tale of the Rose of Versailles.
This popular and highly influential 1979 anime was based on the best-selling shoujo (girls') manga Versailles no Bara by Riyoko Ikeda.  The manga had started out as a biography of Marie Antoinette, with Oscar as a supporting character to be involved in combat scenes where the ruler could not be placed, but the princely woman was immensely popular with readers and eventually became the star of the story.  (Especially once the queen retired from public life to raise her children.)  The anime therefore expanded her role at the beginning a bit.
The series is highly dramatic, often melodramatic, with shocked expressions, flowing tears and glittering roses.  Some modern viewers might find this all a trifle overdone, especially as many newer anime series have homaged famous scenes and effects from this one.  Romantic tension is high.  At least initially, Marie Antoinette and her young husband do not get along well, and she develops an interest in the Swedish Count Axel von Fersen, who reciprocates.  Oscar also has a thing for von Fersen, but is not reciprocated, while her childhood friend and servant Andre pines for Oscar but knows that a commoner can never marry a noble.
In addition, while Oscar is known to be a woman by most of the nobles, her handsomeness and chivalry cause her to be admired in an almost romantic fashion by various ladies, most notably a young woman named Rosalie, who turns out to have a secret of her own.
While the broad historical outlines of the series are accurate, many of the details are fictionalized or exaggerated.  For example, the Duke of Orleans was probably not directly behind every plot against Marie Antoinette.
In addition to the standard sword-fighting and the horrors of the French Revolution, there's an attempted sexual assault at one point (the man stops when he realizes what he's about to do) and a twelve-year-old commits suicide rather than submit to an arranged marriage.  (It's pretty clear that her much older intended husband intends to consummate the marriage immediately.)  Towards the end, the narration specifically tells us two of the characters get it on.  The imagery is tasteful, but the content may be too much for younger or more sensitive viewers.
The series switched directors about halfway through; the earlier part has much more incidental humor, while the later half is more somber, befitting the way events get worse and worse for both Oscar and Marie Antoinette.
This is a classic, and now legally available in the United States with subtitles.  Recommended for French history and romantic tragedy fans.