Book Review: A Wilder Rose by Susan Wittig Albert
Disclosure:  I received this book in a Goodreads giveaway on the premise that I would review it.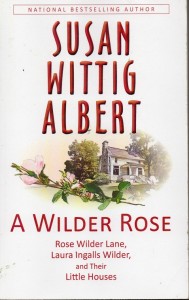 Most of you are familiar with the "Little House" series by Laura Ingalls Wilder, about her life as a pioneer's child.  If not the much beloved books themselves, then from the also beloved TV series starring Melissa Gilbert.  You may also be aware that scholars now believe that Laura's daughter Rose Wilder Lane was much more involved in writing the books than either woman ever told the public during their lifetimes.
This is a fictionalized biography of Rose, focusing on the period of 1929-1939, when the bulk of the Little House books were written.  Ms. Albert has based the story on information found in Rose's journals and letters, plus the scholarly research of such non-fiction biographers as William Holtz, author of Ghost in the Little House: A Life of Rose Wilder Lane.  It's an appropriate approach, given that the Little House books were a fictionalization of Laura's life.
While the rest of Rose's long and interesting life is covered in asides (and a wrap-up chapter at the end,) the focus is on on the difficult mother-daughter relationship between two strong-willed women who were more alike than either would care to admit, despite their deep differences.  There's also a theme of Rose's foster children and how they helped her fill a need in her own life.
Rose knew many famous people in her own career as a writer, including living with Helen Boylston (author of the Sue Barton nurse series) for several years in Albania.  These connections turn up at odd moments to advance the story.
One bit that really struck me was Laura complaining how kids these days have it too soft…in the middle of the Great Depression.  Some things never change!  There's also a look at how Rose's politics became more Libertarian over time.
There's a bibliography of the books written by Laura and/or Rose, as well as a list of books about them for further reading.  A list of real people mentioned in the book is included, and a caveat that names of less famous characters have been changed for privacy reasons.
Because it's based on things that really happened, the ending may seem a bit weak, but it's well-written and I would recommend this book to older teens and adults who fondly remember the Little House books.