Comic Book Review: Superman Adventures Volume 1 edited by Mike McAvennie
After the success of the Batman animated series of the 1990s, the DC Animated Universe became a "universe" with the release of the Superman animated show that shared the same continuity.  While perhaps not quite as brilliant as its predecessor, the Superman animated series was still very good and depicted the characters well.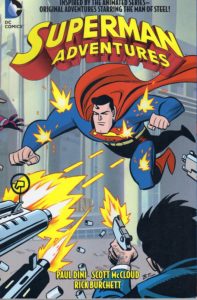 So naturally, there was a comic book tie-in series as well.  Paul Dini (who'd worked on the TV show) and Scott McCloud wrote issues, with various pencillers and inker Terry Austin imitating the show's artstyle.  In this first volume, we primarily see sequels to television episodes.
Some standout stories:  Issue 2 has "Superman's Girlfriend" who is not Lois Lane, but an ordinary woman who allows a joke to roll out of control because she initially likes the attention.  Which is fine until she's held hostage by Metallo, the man with the Kryptonite heart.  Issue 5 has the return of Livewire, an electrically-powered woman who'd been created for the TV show.  This time she's striking a blow against the patriarchy by banning men from all electronic media.  Somehow.  It's a bit heavy-handed, but allows Lois and a female TV reporter to bond a bit–it's the first time the latter has been allowed to be the primary reporter on real news stories.
#7&8 is a two-parter in which two Kryptonian criminals get access to size-changing technology.  It's most interesting for spotlighting police officer "Dangerous" Dan Turpin (a  Jack Kirby creation who was made to look even more like his creator after Kirby died) and his refusal to back down against impossible odds, despite his utter lack of superpowers.  And Issue 9 features a teenager who has two heroes, Superman and Lex Luthor.  We see some depth from Luthor in this one, as he does seem to care about the boy, even as his greed ensures that the teenager will lose faith in him.
These are kid-friendly stories (#10 even has a kid help Clark Kent solve a mystery) with enough depth for adult fans to enjoy.  There's a certain amount of fantasy violence, and some people die in the backstory, but the worst that happens to anyone in the present day is a trip to the hospital.
The art style may take some getting used to for those who never saw the show, but is clear and effective.
Recommended for young Superman fans, and Nineties kids with nostalgia.