Anime Review: My Love Story
Takeo Goda is a freshman in high school, but you'd never guess it to look at him.  He's over six feet tall and built like a truck.  His heart is as big as the rest of him, and Takeo often helps others in need.  Unfortunately, he's not exactly handsome, and comes off as intimidating to most people who don't know him well.  Every girl Takeo has had a crush on has instead wanted to go out with his handsome best friend Suna.  Suna's turned them all down for some reason.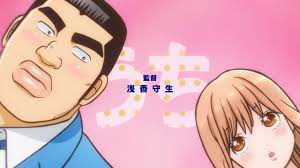 One day Takeo sees a petite girl named Rinko Yamato being hassled by a groper on the train.  Ignoring the tradition of not making a scene, Takeo grabs the man and hauls him to the police officer at the next stop.  At first the groper plays the innocent victim of a huge bully, but when Rinko verifies Takeo and Suna's story, he switches to blaming Rinko for wearing provocative clothing (her school uniform.)  Takeo loses his temper and punches the jerk.
Rinko starts hanging out with Suna and Takeo, and bringing them homemade treats (she's a skilled dessert maker.)  Takeo is strongly attracted to Rinko, but assumes she's interested in Suna like all the other girls.  And Suna doesn't seem as down on her as he was with the others.  Takeo attempts to support this couple, and Suna is finally forced to trick Rinko into admitting out loud in Takeo's presence that she is in fact interested in the big lug.  At that point, their love story truly begins.
This anime series is based on the shoujo ("girls'") manga Ore Monogatari! ("My Story!" but with a very rough, masculine connotation), written by Kazune Kawahara and drawn by Aruko.  It's a light-hearted romantic comedy with a sweet center.
Takeo's a great guy, the sort of person who you want to have your back in a tough situation, which makes him popular with his male classmates.  But he can be a bit slow on the uptake, particularly when it comes to girls and how they feel about him.  He's also quite pure-hearted, which makes the relationship move slowly.
Rinko is a sweet little lady whose love comes from her pure heart.  But her innocence can cause her to not understand other people's motivations.  Rinko's gobsmacked to learn that most girls don't find Takeo handsome, for example.  She's also very shy about expressing herself physically, and holding hands is a huge step for her and her boyfriend.
Suna is an interesting character in that he's the bishounen ("pretty boy") aloof fellow who is so often the love interest in shoujo manga.  But here he's Takeo's wingman, helping the young couple come together despite their mutual clumsiness.  He may be aromantic or even asexual; his stated reason for turning down all the girls is because they'd badmouthed Takeo to him, but he doesn't seem interested in girls or boys even when they're not jerks.  His friendship with Takeo is because the forthright and extroverted boy makes him laugh.
And there are a variety of quirky supporting characters, from the main couple's classmates (one set of which get their own romance) to Takeo's formidable mother.
The artwork works well with the sweet story.  That said, some viewers may find this series too sugary for their tastes.  I'll note that My Love Story seems to have a larger male fanbase than most shoujo.  I've seen grown men reduced to sentimental tears during certain episodes.  This may be because male anime fans can more easily identify with the homely but good-hearted Takeo than the usual bishounen but kind of jerkish love interest.  This is pointed up towards the end of the anime when such a fellow appears who seems on the surface more suited to Rinko, but it's clear to the viewer that he's more concerned with what Rinko can do to support his career than in what she actually wants in a relationship.
There's a bit of swimsuit fanservice, and Takeo's butt gets exposed at one point.
If you're looking for a soppy romance from the male point of view, this is a good choice.