Book Review: Riot Most Uncouth by Daniel Friedman
Disclaimer:  I received this book as a Goodreads giveaway for the purpose of this review.  No other compensation was offered or requested.
When George Gordon, Lord Byron, was a lad, his father Mad Jack often told him tales of the vrykolakas, immortal beings who fed on the blood of the living.  Now he's nominally a student of the university at Cambridge, where a young woman has been found murdered and drained of blood.  As both the world's greatest living poet and England's greatest expert on vampires, Byron feels that he is the best person to undertake an investigation.  After all, he must also be the world's greatest criminal investigator!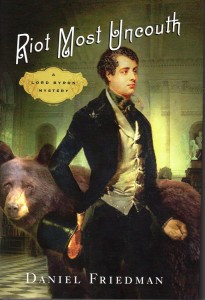 This new mystery novel is loosely based on real life poet and romantic figure Lord Byron (1788-1824).  It blends some actual things that happened (Byron really did have a bear as a pet to thumb  his nose at Cambridge's "no dogs in student housing" rules) with a fictional murderer on the loose.
Byron makes a fun narrator; he's vain, self-centered and often drunk enough to miss important details.  On the other hand, he's fully aware that he is not a good person and is reasonably honest about his character flaws.  We learn the circumstances that shaped him, including his abusive father and being born with a deformed leg–but it's clear that Byron could have made much better life choices at any time.  Some people may find him too obnoxious as a protagonist.
The neatest twist in the plot is that there are two private investigators that claim they were hired by the murdered girl's father, who are not working together…and in a mid-book flash forward we learn that the father doesn't know which of them he actually hired.
Bits of Lord Byron's poetry are scattered throughout, and are the best writing  in the book.  A word about the cover:  the Photoshopping is really obvious and a bit off-putting.
As mentioned above, Byron's father is emotionally and physically abusive, there's a lot of drinking and other drugs, gruesome murders (the corpses are lovingly described), on-screen but not explicit sex  scenes, and some profanity.  Period racism, sexism (Lord Byron himself is especially dismissive of women) and ableism show up in the story and narration.  The ending may be unsatisfying for some readers–Lord Byron has odd standards of justice.
Recommended for Lord Byron fans, and historical mystery readers who don't mind a protagonist who is more flaws than good points.