Magazine Review: Science Fantasy #4 Spring 1971 edited by Sol Cohen
Science Fantasy was a short-lived (this is the final issue) reprint magazine from Ziff-Davis Publishing, which should not be confused with the long-running British magazine of the same title.  The stories in this issue come from the late 1940s/early 1950s, and reader tastes had changed considerably by the early 1970s, which may explain why the magazine didn't last very long.  The cover and interior art are uncredited, although some of the illustrations are signed, and Virgil Finlay's stuff is unmistakable.  Let's take a look at the eight stories featured.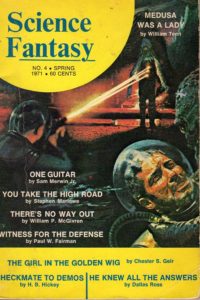 "Medusa Was a Lady" by William Tenn:  Perennial sucker Percy S. Yuss probably should have been more suspicious about the apartment being so cheap to rent, especially as the last few tenants hadn't taken their stuff with them.  But he's on a shoestring budget since being talked into buying a half-share in a failing restaurant.  So he takes the place, then tries to take a nice relaxing bath.  Except that when he opens his eyes, the tub is in the ocean, a long way from shore!
Percy soon learns that he has somehow been cast in the lead role of the myth of Perseus.   Now he must avoid being executed by the tyrannical King Polydectes, rescue a beautiful woman from a monster and slay Medusa of the Gorgons, with the help of Hermes.  But is the Olympian being entirely honest about what's going on?
Pulp SF did a lot of "explain mythology with science fiction" stories, and this novella is firmly in that camp.  "Cyclical history" is involved, and we are told by one character that events don't have to repeat exactly as they were reported before.  The ending suggests he might be wrong.
This story is also somewhat satirical, with Percy noting the absurdity of his situation several times.  This may also account for minor character Tontibbi, a "Negro girl" who clearly has more common sense than anyone else on the island of Seriphos and is described as being from a more advanced civilization in Africa.  Sadly, she is in the wrong culture, so is reduced to one of Polydectes' concubines, and no one listens to her sensible suggestions.
(Versions of the Perseus story also appear in The Blue Fairy Book and Greek Myths: A Wonder Book for Girls and Boys, which I have previously reviewed.)
"One Guitar" by Sam Merwin Jr.:  Lew Harlow, jazz guitarist, falls in love with singer Diana Wray.  She's got the talent for the big time, but refuses to leave the small city she was born in.  It seems that every time she tries to leave, horrible accidents happen to those around her.  Also, there's her bedridden mother to consider.  Lew decides that he likes Diana well enough despite their short acquaintance to marry her and stay in town too.
This triggers a confrontation with his new mother-in-law, who's been hiding secrets about both herself and her plans for her daughter.  Lew will need both his knowledge of science and guitar-playing skills to get out of this one intact!  The story has a black character as a servant to Mrs. Wray, who has a stereotypical accent in her brief appearance.
"You Take the High Road" by Stephen Marlowe:  A Terran spaceship has crashlanded on a distant world and needs steel for repairs.  Unfortunately, negotiating with the natives has proved fruitless as they react with violence to all attempts to communicate.  After two crew members vanish, Doug Chambers decides to try something different.  As spoiled by the tagline, it turns out that the Murkies only respect fighters, and Chambers makes friends by beating them up.
"There's No Way Out" by William P. McGivren:  An absurdist tale of an insurance agent who's lured to an address with no building on it–until suddenly there is.  The building directory has no floors or suites listed with the names, and Sidney Wells is baffled by the contradictory directions he gets from the inhabitants.  Oh, and the elevators only go up, to the lobby.  Things just get worse from there.  No explanation in this one, Mr. Wells just finally accepts his situation and possibly goes insane.
"Witness for the Defense" by Paul W. Fairman:  This story was apparently a reply to one that had a decidedly negative view of the future of humanity.  Three bums pass time by holding court as to whether humankind is worth allowing to live; there's a surprise witness who turns out to be a carpenter from Galilee.  Very short, and some readers may strongly disagree with the witness' conclusion.
"Checkmate to Demos" by H.B. Hickey:  Dave Harkness, now effectively the world champion of chess, must play against an alien overlord for the fate of Earth.  But Dave has a dark secret; he's not actually the best chess player in the world, merely the front for that person.  And when he can't contact Binky, Earth is doomed.  This is a science fiction story until suddenly it becomes fantasy just long enough to give Dave a "hope spot" (a plot twist that makes it appear things are getting better just before they get much worse), and then the survival of humanity falls on Dave's shoulders alone.  Heartwarming ending.  Some folks may find the characterization of a person with a disability dubious.
"The Girl in the Golden Wig" by Chester S. Geir:  Edward Shannon is a successful engineer, working for a major firm.  But he has secrets that are eating at him.  He has no memories past two years ago, just waking up one morning already in an apartment and working for Meyrick & Brandt.  He also wears a wig to conceal his complete baldness, which may or may not be important to his missing past.  He's taken to wandering the streets at random at night, and one of those nights he bumps into a beautiful woman…whose golden wig falls off, revealing she too is completely bald.
Zell is a singer with an unwanted suitor (who turns out to be Shannon's boss) and yes, their mutual baldness is a clue.  Turns out they're aliens who are having a quiet civil war, and Shannon is one of the casualties.  Zell is the one who actually saves the day, using Shannon as something of a distraction.
"He Knew All the Answers" by Dallas Ross:  Jeremiah Perkins one day realizes that there is no true proof that light exists when he can't see it.  From this bit of solipsism, he comes to the conclusion that the entire world is a sham, much to the distress of his wife Martha.  Since this is a speculative fiction story, Jeremiah isn't completely wrong.
There are also short articles on Devil worship (the writer thinks the cultists are deluded) and the possibility of audiobooks (the writer is agin them as he feels it will lead to mental laziness, but is willing to make an exception for blind people.)
The Tenn novella and the Hickey story are the most satisfying ones.
Inexpensive used copies can be found through the Internet, but you might check your finer science fiction bookstores as well.