Book Review: Empire of Sin by Gary Krist
A criminal called "the Axman" opens this story, and after a thirty-year flashback through New Orleans history, wraps it up as well.  No one is sure who the Axman actually was, how many of the crimes attributed to him he actually did, or his final fate.  Rather more is known of many of the Crescent City's other colorful characters between 1890 and 1920 or so.  The reformers tried to make prostitution and other vices confined to a small neighborhood sardonically named "Storyville."  This created one of the most notorious red-light districts in American history.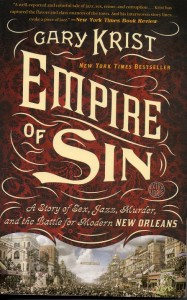 Gary Krist, who also wrote City of Scoundrels, which I reviewed earlier, covers rather more ground in this volume, expanding from 12 days to three decades of history.  In addition to the brothels and saloons of Storyville, presided over by the genial vice lord Tom Anderson, the history also looks at the alleged Mafia/Black Hand involvement among Italian immigrants, the infancy of jazz music and the coming of Jim Crow.
The high-minded citizens who wanted to reform New Orleans and make it a modern city unfortunately wanted to make it like other Southern cities of the time.  So in addition to segregating out sin and temptation, they wanted to segregate out people of color as well.  New Orleans' complicated social scene, including many Creoles of color, was simplified (legally at least) into black and white, the first of which was to be suppressed and oppressed.  This resulted in Storyville being one of the few places where people of different races could meet and interact as something like equals.
Meanwhile, the Italian immigrant population had persistent problems with crime;  how organized it was is up for interpretation.   Paranoia and the assassination of the police chief resulted in the Parish Prison lynching of eleven men.   It didn't help when some of the alleged Mafia people decided to try to muscle in on Storyville.
Quite some space is devoted to the early musicians who created what would become jazz,   "Buddy" Bolden, considered by many to be the first, had a tragically short career due to a sudden onset of mental illness.  But by that time, he had inspired many others, with Storyville providing work opportunities for them in dives and brothels.
While reform movements constantly assailed the vice district, what dealt the crippling blow to Storyville was World War One.  With a major military encampment near New Orleans, and the War Department insistent on keeping their soldiers moral and fit for duty, they imposed restrictions that made it difficult at best to operate.  After the war, Prohibition struck, making it illegal to serve alcohol, the lifeblood of many demimonde establishments.
While crime and vice never actually went away, they did have to go underground, leaving New Orleans a much duller place.  The "better class" people disdained jazz, so the city lost many of its best musicians to other cities, particularly up North.  Eventually, economic doldrums convinced the New Orleans tourist boards to play up its seedy and jazzy past, though somewhat whitewashed.
There's small pictures at the beginning of each chapter, a bibliography, end note and index.  The paperback edition also has a short interview with the author, a suggested playlist for New Orleans music, and a list of fictional treatments of the Crescent City.
I found this book to be more…diffuse…than Mr. Krist's previous one–thirty years is a lot of territory to cover.  The focus on the Storyville district means that a lot of other matters get only a glancing view at best.   Still, if you're curious about New Orleans history, this is a good place to start, well-researched and full of lurid bits.
FTC Disclaimer: I received this volume from Blogging for Books for the purpose of writing this review. No other compensation was involved.