Book Review: A Life for a Life: A Mystery Novel by Lynda McDaniel
Disclaimer: I received a download of this book through a Goodreads Giveaway to facilitate writing this review.  No other compensation was requested or offered.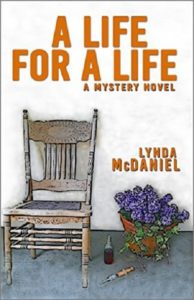 There's big doings down to Coburn's Country Store.  The new owner, Della Kincaid, used to be a big-city reporter in Washington, D.C.  She's fixed the place up nice, settling into life in this rural North Carolina community, and taken a sisterly interest in Abit, the learning-challenged boy who lives next door.  She enjoys walks in the mountain forest with her dog Jake–or at least she did until she found a dead woman's body.
No one knows who the woman is or how she got there, or who the man Della saw running from the scene is, but the sheriff is quick to rule the case a suicide.  Della isn't convinced, and starts snooping with the aid and/or obstruction of her quirky neighbors.
This is the first in a series of "Appalachian Mountain Mysteries" set in the 1980s, and featuring characters loosely based on the people the author met when she lived in North Carolina.  (A sequel was published last month.)
Most of the chapters are narrated by Della, but there are also chapters from the viewpoint of Abit (birth name Vester), a teenager who has a learning disability his family isn't fully understanding of.  He's large for his age, and sometimes his words come out wrong, so his father took him out of school.  As a result, Abit spends most of his time hanging out on the porch of Coburn's, observing.  This habit comes in handy when there's a murder to solve!  (He also writes with a bit of dialect.)
The sheriff is intellectually lazy and impatient, so jumps to conclusions, and has a grudge against Della (his family owns a competing store) so doesn't listen to any of her theories or evidence.   In fairness, we later learn that the townsfolk have not bothered telling the sheriff important details about the case because they don't like him.  There's a more sympathetic law enforcement officer, but he doesn't have jurisdiction, and then becomes a suspect when certain information about his past surfaces.
Another important character is Della's ex-husband Alex, also a reporter, but disgraced due to apparent plagarism and his drinking problem.  He helps with the investigation, not least because he has access to the Lexis-Nexis database, big back in the 1980s.
The resolution to the case is mostly offstage, though savvy readers should be able to spot the culprit earlier.
Like a fair number of "cozy" mysteries, the book spends a lot of time detailing the delicious meals the characters are enjoying.  I was a bit disappointed that there were no recipes in the back.
The characters are likable enough, but the book never really gripped me.  Recommended to cozy mystery fans interested in the Appalachians atmosphere.