Comic Book Review: The Last Sacrifice #1 Original story by Joe Hart, adaptation by Stuart Moore, art by Michael Montenat
Disclaimer:  I received a Kindle download of this item as a Goodreads giveaway for the purpose of writing this review.  No other compensation was offered or requested.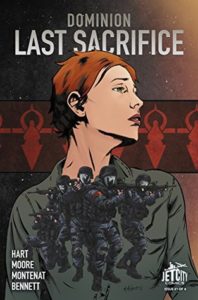 In the not too distant future, female to male birth ratios have declined drastically for unknown reasons, called the Dearth.  Civilization has started breaking down as various groups panic and begin hoarding woman and girls, quickly devolving into kidnapping and imprisonment.
Fifteen year old Janie Tenner and her sister have been hiding out in an abandoned house in the mountains of Washington, but Janie is sick of being on the run and quarrels with her sister.  As a result, she is captured by a group that is trying to solve the Dearth with science (and getting nowhere) while her sister may have escaped.
Several months later, the research compound is attacked by a cult; in the confusion Janie escapes, but is wounded.  She's rescued by a man named Tom, who appears not to be associated with the cult; but is he really a better option?
This comic book series is set in the world of Joe Hart's Dominion trilogy, which is not yet complete.  Normally when I do comic book reviews, I prefer to work with collected volumes, as they give a fuller picture of the story and whether it's worthwhile continuing.  But this first issue is all there is so far.  And it's pretty lean pickings.  There's little character development; other than Janie we don't spend more than a couple of pages with any of the characters, and Janie is focused on escaping from, then to, her older sister.
There's a few pages in flashback to a women's shelter just before things started getting really bad–presumably one or more of the characters from that sequence will be showing up in the main storyline.
The art is adequate, but my Kindle doesn't support color, and the art was not optimized for grayscale reproduction; if your reader supports color, it should work better for you.
There is discussion  of abortion and dark hints at what the cults do to the women they capture.  It's not clear what the researchers are hoping to find with Janie; all we see done are blood tests.  (According to reviews of the book trilogy, the author may not understand how sex selection of fetuses works.)
I'll note that some similar dystopian scenarios were presented in the Sisters of the Revolution anthology I reviewed a bit back, and generally done better in those short stories.
Right now I cannot honestly recommend this comic book to anyone, and hope that future issues are much improved.