Book Review: The Ferguson Rifle by Louis L'Amour
My name is Ronan Chantry, and I am alone upon this land.
He is a scholar and a gentleman, but Ronan Chantry was raised in the wilderness, hunting, trapping and tracking.  Now that his wife and son have died in a fire, and pursued by the reputation of killing a man in a duel, Chantry returns to the wilderness.  He does not remain alone for long, joining a small band of men also going into the West to try their hand at fur trapping.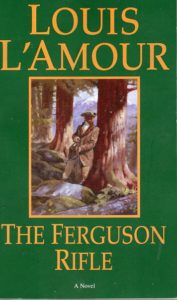 Their camp is nearly raided by allies of a treacherous Native American guide; but some time later the group makes friends with the Cheyenne, while trying to evade Spanish soldiers who have not yet gotten word that the Louisiana Purchase has gone through.  Then Ronan stumbles across Lucinda Falvey, whose father was murdered for the secret of a lost treasure.
The murderer and his minions have pursued Lucinda into the Dakota Territory, and turns out to have connections to both Lucinda and Ronan's pasts.  Chantry and his allies must evade the killers, find the treasure and get the woman to safety–perhaps an eccentric mountain man has the key to survival?
This is the first novel written in the Chantry family saga by all-time great Western writer Louis L'Amour.  (But the last in internal chronology.)  The title comes from Chantry's signature weapon, a firearm given to him by Major Ferguson himself.  It's a customized prototype without the weakness in the lock mortise.  Since the story is set about the time of the Lewis & Clark Expedition, a rapid-firing breechloader is a formidable advantage.
This is a fast-moving story with clear but often evocative use of language; not a lot of time is spent on characterization, with bad man Rafen Falvey getting the bulk of what depth there is.  Chantry is not just smart and well-educated, but wilderness-savvy and skilled at all forms of combat he turns his hand to.  His one weakness is prideful anger, which led him into the fatal duel, and into the knock-down drag-out fistfight that is the climax of the book.  The use of coincidence to drive certain story elements does come close to breaking suspension of disbelief.
Recommended to Western fans, and those looking for a good manly adventure story.