Book Review: The Best of Planet Stories #1 edited by Leigh Brackett
Planet Stories was a pulp science fiction magazine that ran from 1939-1955.  Its specialty was "space opera", exciting tales of adventure set in the future and on other worlds, full of square-jawed heroes, scantily clad damsels and bug-eyed monsters.  Not always the most intellectual stuff, but by no means junk either.  As editor Leigh Brackett mentions in her introduction, there were some classic tales during the magazine's decade and a half.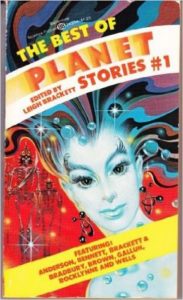 The first story (and Kelly Freas cover feature) is "Lorelei of the Red Mist" by Ms. Brackett and Ray Bradbury.  It's a planetary romance set on Venus, with a dying criminal's mind being inserted into a mostly blank native's brain.  It seems that Conan (yes, really) had been mind-controlled into being Rann's (the lorelei of the title) tool for betraying the land-dwellers to her amphibian people.  His mind broke, so Rann  thinks Starke will make a good substitute.
However, Starke is not quite so self-centered as Rann thinks, and has a stronger will than Conan did.  The humans have no reason to trust him, but he's the only one who can stop the invasion.
There's some eerie images, especially the semi-sentient chained corpses herded through the sea.  Leigh Brackett explains in the introduction that she'd got halfway through the story when a paying gig came up that had to be done first, so she turned it over to Ray Bradbury to finish.  The swashbuckling stuff wasn't Mr. Bradbury's forte, but he was able to carry it off for this piece.
"The Star-Mouse" by Frederic Brown is the tale of the first mouse in space, Mitkey.  More or less adopted by a rocket scientist working in secret, then placed on a tiny experimental space ship, Mitkey encounters aliens.   These aliens uplift Mitkey to human intelligence, but the plans of mice and men gang aft  agley.  The scientist (and thus Mitkey) has a thick phonetic accent.  Humorous, but the ending is a bit pat.
"Return of a Legend" by Raymond Z. Gallun is set on Mars.  A man sets out exploring with his son.   They don't return, but eventually it is discovered that the son is still alive…somehow.  When captured, the boy breaks free, and a small group of colonists try to track him.  What they find at the end of the journey…are Martians.
"Quest of Thig" by Basil Wells has an alien scout take over a human body in preparation for invasion.  This is a standard "alien goes native and decides to call off invasion" story, on the sentimental end.
"The Rocketeers Have Shaggy Ears" by Keith Bennett is not nearly as humorous as the title suggests.  A scout ship of the young Rocket Corps crashes in the wilderness of Venus.  This lost patrol must make its way back to base through unknown  perils and its own psychological weaknesses.  In particular, green Lieutenant Hague must rise from rookie to leader if they are to survive.  This is good action stuff with rising tension as the party dwindles.
"The Diversifal" by Ross Rocklynne takes place on Earth.  A newspaperman is confronted by a time traveler from the distant future.  Bryan Barrett learns from Entoré that he is a key person in the direction humanity will take, a diversifal.  There is also a woman who is a diversifal–if she and Bryan meet and have a child, that child will be a mutant, the first of a series of events that will result in global annihilation a thousand years hence.
The man from the future can't kill Bryan or the woman, and apparently just having Bryan get a vasectomy either won't work or just didn't occur to either of them.  Instead, Entoré's plan is to convince Bryan to never take any of the actions that would allow him to meet his counterpart.
Unfortunately, in order to make sure the future is fixed, Bryan must sell out all of his principles in the present day, not exposing corruption, and in fact taking a lucrative job with a "fake news" organization that is actively making the world worse.  Bryan becomes increasingly disenchanted with the prospect of saving humanity over the years, and it's clear the time traveler hates him back after so much time together.
This is honestly one of the bleakest stories I have ever read.
Finally, we have "Duel on Syrtis" by Poul Anderson.  It's a variation on "The Most Dangerous Game" as a human trophy hunter stalks one of the last free Martians.  The Earthling stacks the odds in his favor, but Kreega has lived long, and is native to this world.  It's a more even match than it might at first appear.  It might be a formula story, but a great formula it is.
Overall, a strong collection of stories that gives a glimpse into the Golden Age of Science Fiction, and well worth investigating.  Sadly, there does not appear to have been a second volume.