Book Review: The Snow Queen by Hans Christian Andersen
Kay and Gerda are best friends who live in adjacent garrets, and often visit each other across the roof, where their parents have installed flower boxes with rosebushes.  They are like brother and sister, and very happy together until one day Kay's personality changes.  He has been pierced in heart and eye by shards of the Devil's distorting mirror, so now Kai only sees the flaws and ugliness of people, and his heart is slowly turning to ice.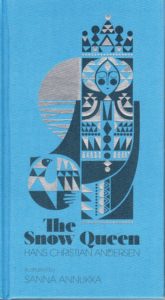 In mid-winter, Kay recklessly goes sledding without Gerda or any other companion, and winds up hitching his sled to the sleigh of the Snow Queen.  As it happens, the queen of all snow has seen Kay before, and decides to keep him, kissing away his memory of family and friends.  Everyone else is convinced that Kay has frozen to death or drowned in the river, but Gerda is not so sure.  When the weather thaws, Gerda goes looking for Kay, having many adventures along the way.
This is one of the many fairy tales written by Hans Christian Andersen (1805-1875), one of Denmark's most famous authors.  First printed in 1844, it's also one of his longest fantasy works (but still only about forty pages without illustrations) and much acclaimed.  It's been adapted many times, and has inspired other works such as the movie Frozen.
Since this is a public domain story, easily downloadable for free from Project Gutenberg, or available at your local library in the children's section, the main reasons to look at this particular edition are the fresh translation by Jean Hersholt and illustrations by Finnish-heritage artist Sanna Annukka.  The language flows well (though parents will want to read it with their children the first go-round to explain some of the words.)   The illustrations are striking, and perhaps a little frightening in places (this would be a good time to introduce young readers to the variety of Scandinavian art.)  The art is very stylized, which works well for the magical beings involved in the story.
The Snow Queen is very much steeped in Scandinavian Christian folklore, from the hobgoblin who is in fact the Devil and his cruel mirror, to Gerda's prayers bringing angels to defend her in time of need.  It's stated that Gerda's simple faith and innocence give her power–it never occurs to her that it's odd to be able to speak to flowers (but not get much out of the exchange) or that a robber girl will suddenly choose to help her on her quest rather than kill her.
And this tale is surprising rich in  female characters: the wise Grandmother, alien Snow Queen, selfish Flower Witch, clever Princess and wild Robber Girl, as well as sweet Gerda herself.  Some of these characters would make good stories with their own adventures.  It's notable that there is no confrontation with the Snow Queen at the end–she's away on a business trip when Gerda arrives to free Kay.  Perhaps this is for the best, as someone must see that snow gets where it belongs.
One aspect that may be troubling for parents is that after Kay is affected by the distorting mirror, he only finds beauty in mathematics, logic and symmetry.  He's noted for being able to do arithmetic in his head–with fractions!
The book has sturdy covers and thick pages, so should survive frequent re-reading by youngsters well.  Recommended to families that don't already have a copy of this classic tale, and people who like this style of art.
Disclaimer:  I received a copy of this book from Blogging for Books for the purpose of writing this review.  No other compensation was requested or offered.
And now, let's have the trailer of a Finnish movie adaptation!