Book Review: Time Frames: A Speculative Poetry Anthology edited by Terry A. Garey
Poetry related to the various genres of speculative fiction (SF, fantasy, horror, etc.) is pretty common.  You can see samples by ones or twos in many magazines and spec-fic collections.  But full hardback anthologies of speculative poetry are rare.  So Rune Press in Minnesota brought out one in 1991, and I recently got my hands on a copy.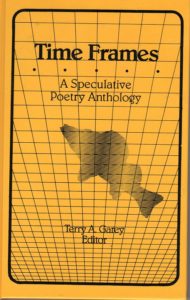 The slim volume features eleven poets; the only name I recognized immediately was Ruth Berman, who starts the volume and has a couple of nice pieces involving the Oz books.  From her "Wizard's Road":
Home in Omaha at last
It was hard to believe
In a probable world.
To be honest, most of these poems are the modern free verse stuff I don't fully understand, and don't know good from bad.  There are a few exceptions with more formal rhyme and scansion, and one attempt at a rare Welsh form called a "toddaid."   It's not very good, but I appreciate the poet's effort to stretch.  I did like Roger Dutcher's "The Smart House" about an AI-run domicile that learns from other houses' mistakes.
The book ends with John Calvin Rezmerski's "Challengers", a memorial to the Challenger disaster of 1986.  I do not know if the poem moved me of itself, or because of my lingering sorrow over the event.
As is often the case with poetry, those who are trained in its ways may enjoy it much more than I.  It is, I understand, quite rare, so you may have trouble tracking down a copy.