Comic Book Review: Showcase Presents the Flash, Volume 4 edited by Julius Schwartz
The Flash is Barry Allen, a police detective who was working during a thunderstorm one night when a bolt of lightning struck a shelf of chemicals, spilling the mixture on him.   Barry quickly realized that he'd been gifted with super-speed, making him the fastest man alive.  Taking inspiration from a comic book hero of his youth, Barry Allen protects Central City and the world as the Flash!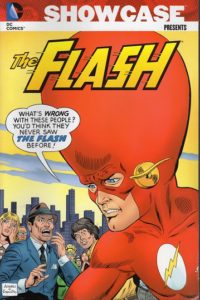 This fourth volume of the Showcase Presents collection of the series covers from Flash #162-184, 1966-68.  The first story in the set is "Who Haunts the Corridor of Chills?"   A Walt Disney stand-in is inspecting the new spooky ride at his amusement park when he's unexpectedly transformed into a rampaging monster.  Flash is temporarily handicapped by developing a sudden phobia of dark spooky tunnels.  By the end, the story becomes a parable about not jumping to conclusions.
Most of the stories are workmanlike tales of the Flash encountering a criminal or monster, encountering some sort of obstacle that prevents him from simply using his immense speed to solve the issue, and thinking his way through to victory.  Barry Allen was very much a "thinking" hero, using his scientific know-how and reasoning abilities as much as his ability to move very fast.
Some have criticized the Silver Age Flash for having a bland personality, but "bland Midwestern science fan" is a personality I see all the time in real life.  Barry's serious but not grim, and even when he loses his temper, it's in a subdued fashion.  This makes him becoming a braggart in the cover story, #177 "The Swell-Headed Super-Hero!" especially jarring.  This particular story is also interesting because it's the only one in the volume where we see Barry performing his day job as a crime scene investigator for more than one panel.
Alas, he doesn't use any of his science skills on-panel, but instead performs a Ralph "Elongated Man" Dibny-style feat of deduction to solve the "impossible" crime.  This story also has a great panel by Ross Andru of horrified civilians seeing the transformed Flash for the first time.  (The Silver Age writers loved transforming the Flash.)
The thinness of characterization is perhaps clearer in the villains, who tend to have very similar personalities, leavened slightly by Captain Cold being a would-be ladies' man, and Abra Kadabra's need to be the center of attention.  (The latter may explain why he appears the most in this volume.)
And then there's Professor Zoom, the Reverse Flash.  He only gets one appearance, but it's a doozy, as Barry Allen finally gets around to marrying Iris West.  Except that Zoom decides to take his similarity to the Flash to the next level by changing his face to Barry Allen's and impersonating the hero–even to the point of marrying his girlfriend!  Barry manages to escape in time and prevent the false vows, but this plotline will define Professor Zoom for years to come.
Barry, very protective of his secret identity, doesn't tell Iris that he's the Flash until a year into the marriage!  (Flash television show viewers can take heart that this tendency is faithful to the comics.)  However, it turns out Iris has known since the wedding night as Barry talks in his sleep.  (Wah wah waaaah.)   This is directly contrasted with Golden Age Flash Jay Garrick's relationship with his wife Joan, who was in on the secret from the beginning.
There are a couple of real clunkers in this collection.  The first is #167, "The Real Origin of the Flash!"  This was the most hated Flash story of its era (and for many years thereafter.)  It introduces Mopee, a fumbling "heavenly helper" who somewhat resembles Woody Allen, and claims that he made an error in giving Barry Allen the power of super-speed.  He spoils several attempts by the Flash to "re-earn" his powers, before finally getting it right.  The reader reaction was so negative that the story was simply not referred to again for decades.
#180-181 "The Flying Samurai" & "The Attack of the Samuroids!" is a fun story that has aged badly.  Barry and Iris go to Japan on vacation and the Flash gets involved in a battle against nigh-invulnerable flying samurai robots.  So many well-meant but glaring ethnic stereotypes!  Among the lowlights: A cute female secretary is named Tushi (a name that doesn't even work in Japanese); Japanese people speaking broken English even when alone among themselves (particularly annoying with supposed traditionalist Baron Katana); one of Barry's Japanese friends referring to marital relations as "tender tentacles"; and villain Baron Katana assuming no one will think to look for him at the abandoned castle…that has belonged to his family for generations.
There are a couple of appearances by Golden Age Flash Jay Garrick (once with his friends from the Justice Society of America), a visit from Hal "Green Lantern" Jordan, and a race against Superman that guest stars the Justice League of America.  Plus, the first Earth-Prime story, in which Flash winds up in "our" world and meets Julius Schwartz.
The final story in this volume, "Executioner of Central City!" has the Flash apparently destroy his home town in an attempt to save it from a pulsar flare.  Of course, this is revealed to be incorrect.  The community has in fact moved to the distant future where humans are much larger and "programmed" against aggression.  Well, except for their leaders, which turns out to be a design flaw.
There's some excellent art by long-time Flash portrayer Carmine Infantino, and not quite as good art by Ross Andru.
Overall, a good choice for Barry Allen Flash fans; fans of other versions of the Flash might want to check it out at the library.