Book Review: A Man Lay Dead by Ngaio Marsh
Sir Hubert Handesley's weekend entertainments are to die for, so young reporter Nigel Bathgate has been told.  And now, thanks to his well-to-do older cousin Charles Rankin, Nigel will have the chance to participate in one himself.   The game is "Murders", which should be jolly good fun for the middle-upper crust guests.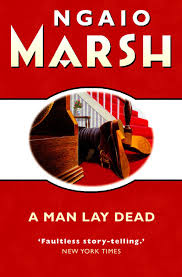 As it happens, Charles has brought along a new toy, a Mongolian dagger said to have associations with a Russian secret society.  That knife ends up in his back when the lights go out.  Did the mysterious brotherhood take revenge for learning their secrets?  Did the two affairs he was having, one with a married woman, create the motive?  Or did Nigel, who will inherit a pile of money from his cousin, decide to speed up the process?
Inspector Roderick Alleyn of Scotland Yard will need all his wits to unravel this puzzle!
This was the first Alleyn mystery published by Ngaio Marsh (1895-1982), a New Zealand author who cleverly left off her first name of Edith to stand out on the bookshelves.  She spent a fair amount of time in Britain, but New Zealand was her home, and several of the Alleyn books take place there.
As is par for the course with British detective stories, Inspector Alleyn is a bit eccentric.  He carries a notebook which he uses constantly, and claims to have a "filthy memory."   (His memory is superior to most people's.)   He's somewhat upper-class, has an appreciation of the arts, and had originally been in the Foreign Service until an incident (unexplained in this volume) diverted him into police work.
After establishing that Nigel is almost certainly not the killer, Alleyn begins using him as a "Watson" to bounce ideas off of and explain his thought processes to.  (This continues in later stories.)
There's some exciting scenes involving the secret society, which yes, really exists and endangers several characters.   The solution to the main mystery is a bit unlikely, but well established by clues in the lead-up.   Unlike some other mysteries of the period, the servants in the household are noticed and have roles to play, if only minor ones for most.  (A staff of about a dozen to support two members of the nobility!)  I also like that Inspector Alleyn gets on well with his Scotland Yard subordinates.
One glaring thing:  A use of the N-word by Nigel–keep in mind that this was written in England in the 1930s, so there's a slightly different context.
If you enjoy Christie and Sayers, you will probably like Marsh as well.   (But the volumes set in New Zealand might be of more interest to someone looking for variety.)
Here's a TV adapation (some liberties have been taken):