Magazine Review: Lapham's Quarterly: A History of Fake News edited by Lewis H. Lapham
This is a "special issue" in addition to the four that this magazine normally puts out in a year.  The subject matter is topical as there has been an avalanche of "news" that is in fact not truthful, while certain politicians and their supporters try to define "fake news" as "truthful information that makes me look bad."  But as this issue points out, there has been false news since a few minutes after the invention of real news.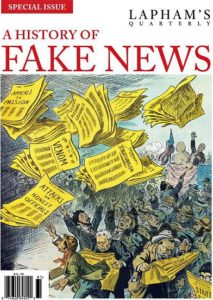 After the introductory editorial and an infographic look at some of 2016's most egregious fake news stories, the essays begin with one about Macedonian fake news sites run by young people trying to make a quick buck from sensation-seeking internet clicks.  The Macedonians didn't actually care about U.S. politics, but quickly discovered that pro-Trump/anti-Hillary lies got way more clicks than truthful stories, so that's what they concentrated on.
The previously published material section ends with an excerpt from a Gore Vidal novel in which publisher William Randolph Hearst puts the squeeze on Theodore Roosevelt, claiming that it is really he who controls the country by monopolizing the narrative.
In between, there is Socrates and his "noble falsehood", Henry Fielding and the importance to politicians of learning to lie well, and Procopius on the forgery of debt documents during the reign of Emperor Justinian.
The new works are:  "Anatomy of a Fake News Scandal" by Amanda Robb, about the bots that created Pizzagate; "The True History of Fake News" by Robert Darnton, an overview of the subject; "War of Words" by Caroline Alexander, about how the British government used the great writers of the day to try to control public perception of the Great War (and why it partially failed); and "Paper Moon" by Paul Maliszewski about the New York Sun's "life on the moon" hoax.
As with the previous issue I reviewed, there are many short pieces, fun illustrations and informative sidebars, making this a good choice for a person who only has a few minutes at a time to read.  On the other hand, some of the pieces come from much larger works and may look differently when in their proper context.
Well worth looking into!