Book Review: Native Silver by Blake Hausladen
This is a sequel to Mr. Hausladen's Ghosts in the Yew and will contain some spoilers for the earlier work.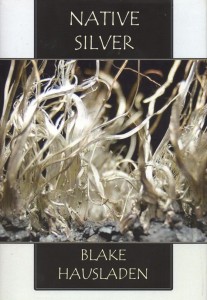 Prince Barok has brought the sleepy backwater province of Enhedu from a shameful place of exile to a thriving young nation in little over a year with the help of his wife Dia, alsman (head servant) Leger and former bodyguard Geart.    Meanwhile, the Zoviyan Empire is crumbling as its Exaltier, Barok's father, is weakening and the remaining sons jockey for position.
There's no time to rest on laurels, as Enhedu's enemies are already within the country, striking a terrible blow, while Barok's own plans have much of his support elsewhere.    Even as the Zoviyan Empire suffers from the multiple schemes of its various leaders, an even worse threat is rising from a place long forgotten.
Good news first:  this volume is much improved over the first.   Surprisingly, one of the ways this is done is by introducing more first-person narrators with multiple points of view.   While this technique did not work well in Ghosts in the Yew, here it's easier to tell the narrators apart.
Also, there is less of the piling up of bad traits to indicate who we should see as a bad person.  Most of the opponents seem more like actual people, even the ones who have had their personalities wiped by magic.
There is less lull time, with the plot moving forward in almost all sections, and short time skips over quiet periods.  On the other hand, this makes some events seem a bit too rushed.  The magic system takes a much more prominent place in the story, which makes the Hessier (who were nigh-invincible in the previous volume) less of a threat, and a new super-Hessier variant is introduced.
There's not a lot of time spent on recaps, so readers who had not read the previous book may be more confused than not.
There are many illustrations, the most useful of which are several maps making it easier to follow the action.  (The deluxe edition of this book comes with color maps–recommended for collectors!)  The reproductions of hand-written letters are less helpful, especially for readers with weak eyesight.   Once again, this volume could use a glossary, and since many new characters are introduced, a dramatis personae.
The author is unafraid to kill characters off, some dramatically, others abruptly or off-stage.  This includes main characters.
One nice touch; the Zoviyan Empire is misogynistic, while the ancestral Edonians treated women much better, but it's pointed out that "The Edonians worshiped their women, but they did not listen to them."  Our protagonists are better at that last bit, and may survive where the Edonians did not.
There are some spellcheck typos, which is a shame in an otherwise professionally produced small press book.
I can recommend this volume much more than the first in the series, and if the author continues to improve at this rate, the next volume should be well worth it.