TV Review: Thunderbolt Fantasy
Sho Fukan, a simple wanderer, just wanted an umbrella to ward off the rain.  But the sly stranger called Rin Setsua manipulated Sho Fukan into helping out a damsel in  distress.  The woman's name turned out to be Tan Hi, a shrine maiden whose family was dedicated to keeping a powerful magic sword locked away.  Tan Hi's brother had already been killed by Betsutengai, leader of the foul organization Genkishu, who now desires the part of the sword she has to unlock the mystic barrier around the blade.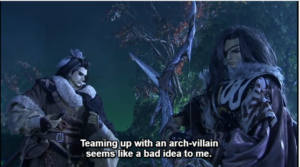 By assisting Tan Hi, Sho Fukan has made an enemy of the Genkishu, and is thus roped into Rin Setsua's plan to go to the Seven Sins Tower and defeat Betsutengai.  There are many hazards along the path, so Rin Setsua recruits others for special skills:  demon necromancer Kei Gai, one-eyed archer Shyu Unshou (and his impetuous sidekick Ken Sanun), and the assassin Setsumusho.   It's not the most cohesive group–Kei Gai and Setsumusho openly plan to kill Rin Setsua for previous wrongs once the objective is reached, Sho Fukan is only going along under duress, and everyone else is wondering if Sho Fukan is really as ignorant as he acts…or is the world's best actor.
This show is a Taiwanese-Japanese co-production, with writing by Gen Urobuchi (Madoka Magica) and puppetry by Pili Co.   Yes, that's right, it's a hand puppet show!  Based on the popular wuxia (mystical martial arts) subgenre, the fight choreography and use of body language are masterful.  This makes up some for the expressionless faces.  I should mention here that the show was broadcast in three different languages; I am using the Japanese versions of the names for convenience.
The setting is more or less a fantasy version of China; a demon invasion two centuries before has split the country in half with a new mountain range and wasteland.   Various mystic weapons were created to drive the demons back, the most powerful of which is rumored to be the Tengyouken that Tan Hi's family guards.  Kei Gai is a lesser demon who chose to stay in the human world for her own motives, and does not get on well with mortals.  Since everyone is wearing elaborate full-body robes, this helps conceal the puppeteers.
As expected from an Urobuchi story, there are some nasty plot twists in the last third of the series, some fairly obvious (what part of "openly plans to kill the leader" did you not understand?) and others more shocking.  It's a wonder that anyone is left to appear in the sequel (already in production.)  Viewers unfamiliar with wuxia may find some conventions of the subgenre like random poetry recitation a little baffling or off-putting.
There's a fair amount of blood in the combat scenes, and a surprisingly gory moment towards the end.  I'd say junior high school viewers and up should be able to handle it.
Highly recommended to wuxia and/or puppetry fans.  These are really cool puppets!  As of February 2017, the show is streaming on Crunchyroll.
And now, the opening song, created by T.M. Revolution!