Anime Review: Devilman Crybaby
War, pollution, crime, climate change, general immorality–it sure seems like the world is going to Hell these days.  According to Ryo Asuka, a teen genius professor, it might be because an increasing number of humans are becoming possessed by demons.  He's come up with a plan, though.  Ryo theorizes that by allowing oneself to be voluntarily possessed, a human of sufficient will can retain their human mind while gaining demonic powers.  And he has just the candidate in mind, his best friend, the wimpy but truly good-hearted Akira Fudo.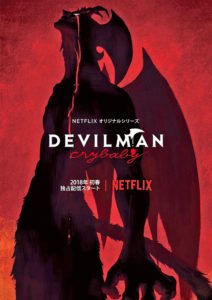 The plan involves infiltrating a "Sabbat", a wild party where people engage in mind altering drugs, illicit sex and blasphemous dancing.  With a violent push by Ryo, the balance is tipped and demons begin possessing the partiers.  Akira is able to merge with the particularly powerful demon Amon, but retain his humanity.  He distinguishes himself from those fully taken over as not a demon, but a "Devilman."  Now Ryo and his foster family the Makimuras (particularly his lovely foster sister Miki) become the target of demons bent on returning Amon to the fold or killing him.
This new Netflix animated series is based on the 1972 manga Devilman by Go Nagai.   Unlike the 1970s anime adaptation, which was considerably toned down for television (but still gave small children screaming nightmares), this horror show mostly follows the plot progression of the manga, including its legendarily apocalyptic ending.  It also takes advantage of not being for broadcast to go for a Mature Viewers audience, with nudity, sex, rape, gore aplenty, cruelty to animals and general nastiness.
It also does a good job of updating the setting for the current day.  A gang of delinquents in the Seventies style is replaced by rapper fans (at least one of whom is a skilled rapper himself), and social media plays a large part in certain events.  A weird touch is that some version of the Seventies cartoon exists in the backstory, causing people to dismiss reports of Devilman as other people watching too much anime.
The title refers to another change–in this version, Akira is empathetic to the point that he can sense other people's sorrow, and cries in sympathy with them, even retaining this trait in his Devilman identity.  This makes it clearer that despite some personality changes, he's still the same person.
Go Nagai intended the manga as a metaphor for how war destroys everything and twists human hearts.  And indeed, in many cases, the humans live down to the worst demons.  But there are exceptions, and even some characters who are initially unsympathetic show redeeming moments.
The art style and animation work very well for the type of story that's being told, and there's some stirring music.
Highly recommended for adults with strong stomachs and an interest in horror.
And here's the trailer!  https://www.youtube.com/watch?v=ww06yGPM7Kc