Book Review: The Return of George Washington 1783-1789 by Edward J. Larson
Disclaimer:  I received this book through the Goodreads giveaway program on the premise that I would review it.   My copy is an Advance Reader's Edition, and changes will be made in the final version, including an index and more illustrations.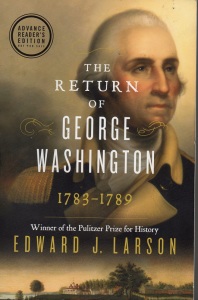 George Washington, "first in war, first in peace, and first in the hearts of his countrymen," has had a great number of books written about him.  However, most of them are general biographies of his entire life, or focus on his two most active periods, being Commander in Chief of the American revolutionary forces, and being the United States of America's first president.  This book covers the period between those two, when Washington was trying to retire to his day job as a farm owner and landlord.
As one might expect, Washington being away in the war for eight years had done Mount Vernon no favors, and there was much to set right.  In addition, land that he owned in the west was either mismanaged or infested with squatters.  For these personal reasons, and because he feared that the newly settled lands might pull away from the new republic unless there were good communication routes, Washington sponsored building a navigable waterway up the Potomac River.
Unfortunately for George, it quickly became apparent that the Articles of Confederation weren't a sufficient framework to run the new country on.  The Continental Congress couldn't pay its bills, including the back pay of the Revolutionary Army, because the individual states didn't want to give them any money.  And the Articles didn't allow them to force payment.  (Kind of like how certain countries are perennially behind on their dues to the United Nations in the modern day.)
Bad money policy led to hyperinflation in some states, while too strict a money squeeze in Massachusetts led to Shays' Rebellion when debtors could not get relief.
So a convention was called to fix some of the problems with the government–only to have it taken over by those who felt a wholesale overhaul and a new constitution was the only way to go forward.  Washington was reluctantly called forward to chair the convention and give it the public gravitas it needed to be taken seriously.
The convention adopted a strict rule of secrecy as to its proceedings, and Mr. Washington took this very seriously, not writing any of the details in his diary or personal letters.  As he seldom spoke on the floor, what was going through his head, and what backroom conversations Washington might have been having are mostly unknown to us.
Still, the convention came up with an innovative three-part federal government with checks and balances built in.  Not everyone liked all the compromises made, but as a process for amendment was included, it was sent to the states, who mostly voted for ratification.
The problem for Washington at that point was that the new Constitution called for a strong central executive, the President.  And there was just one man the Federalists trusted to be the first, Washington himself.  So he spent the first Presidential campaign not running for office, but desperately trying to get on with his personal life before it was wrested away by his country again.
There's an epilogue which briefly covers the Presidential years and Washington's later life.  There is a long endnotes section and several black and white illustrations.
Mind you, this story isn't all good news.  George Washington, like everyone else, had his flaws.  The most pressing one is that he was a slaveowner, one of the biggest in Virginia.   He seems to have been ambivalent on the subject of slavery, regretting its "necessity" but always finding it economically unfeasible to do without buying more slaves, and only making good on his promise to free his personal slaves in his will…with the actual freedom to be after Martha Washington's death.
For more on one particular slave of the Washingtons, see this article: http://en.wikipedia.org/wiki/Oney_Judge .
However, it seems likely that his slaveholding helped the Southern states accept the Constitution and the idea of a President more willingly than they otherwise would have.  And Washington's patriotism and sense of civic duty were strong influences on the early shape of the United States government.
As with other biographies that only cover a limited time span, students will want to supplement this volume with a more general biography.  I'd recommend this book for high schoolers on up, as the subject matter is a bit dry for most younger readers' tastes.
And to round out this post, let;s have a look at the Preamble to the United States Constitution.