Book Review: You Can't Eat Peanuts in Church and Other Little-Known Laws by Barbara Seuling
Laws have a purpose.  It is not always a good purpose, but track them to their passage and you will usually see the reasoning behind them.  With the passage of time, that purpose is obscured, and many laws passed to deal with a pressing but temporary need seem arbitrary and pointless.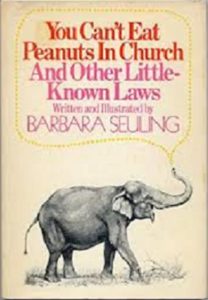 It is often difficult to repeal such laws; perhaps they happen to favor a particular special interest group, or include provisions that specifically forbid a simple repeal, or they might be helpful if a criminal can't be charged for their important crimes.   So it's often the case that these statutes linger on the pages of lawbooks even decades after everyone began ignoring them.
This slim 1970s volume features a few hundred of these obscure laws from around the United States.  They are accompanied by humorous illustrations of people breaking the laws.  In the hardcover version, these illustrations were by Ms. Seuling; the paperback quietly replaced them with ones by Mel Klapholz.
Many of the laws do come off as funny, such as the city ordinance which forbids frightening hats.  Others are just outdated, such as the one requiring a person to walk in front of an automobile to warn of its approach.  Some laws can have their purpose divined if you know your history, such as one about "laundresses" which is clearly aimed at prostitution, and a San Francisco ordinance aimed at Chinese cultural customs.
This is the sort of lightly humorous book sold in tourist traps and hospital gift shops as gifts for people in need of quick entertainment you don't need to think about too hard.   So there's no citations or bibliography for further research.  And it's been forty years, so some of these laws may finally be off the books.
There are probably new books with the same basic premise, so the main reason to look this one up is the illustrations.  Check garage sales and used book stores.