Manga Review: Monster Collection: The Girl Who Can Deal with Magic Monsters, Volume 5 by Sei Itoh
Kasche was an apprentice summoner, gifted at bringing magical monsters from where they are to the place she needs them, and controlling them using name magic.  But her recklessness made Kasche less than popular with most of her teachers.  When Lord Duran stole the Encyclopedia Verum, a living book that contains all the knowledge of past summoners, it just so happened that Kasche was the only summoner capable of going after him!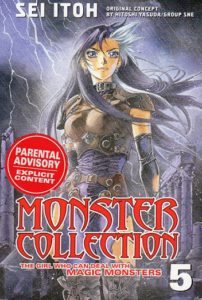 Monster Collection was originally a collectible card game, much like Magic: the Gathering, in which the players are summoners who use monsters to battle for them, each having special powers and weaknesses.  It spawned this manga, a video game (which merged it with a board game mechanic) and an anime adaptation, Mon Colle Knights.  None of these share any continuity.
In this volume, Kasche and her team: human warrior Cuervo, who Kasche has a crush on, lamia sorceress Vanessa, and "spirit animal" Kiki finish up their battle with the fallen angel that had been summoned against them.  It's at this point that  Shin, a lizard man ally of theirs who might or might not be he Lizard King, reappears.
Turns out the only reason they had enough time to finish that grueling battle is because Shin was distracting the other monster in the area, a high dragon.  None of them feel up to the task of fighting such a powerful creature.
Until, that is, Shin reminds Kasche that she in fact knows the true name of this dragon, as that being had previously sent her a dream asking for help.  If Kasche can free the dragon from Lord Duran's control, it will be a powerful ally.  So Kasche goes into the spiritual realm to battle Lord Duran's magical sealing, while the others protect her from a swarm of giant ants summoned by Lord Duran's servant.  Shin turns out to be able to summon himself, but only other lizard folk.
Kasche is at a severe disadvantage until she realizes there is one category of monster she can summon in the spiritual realm.  But will this demon be her trump card or her doom?
There's some nice detailed monster and battle art, but the writing is only so-so and the volume is essentially wall-to-wall fights.  There's relatively little gore; the "mature readers" label comes because Kasche is usually naked on the spiritual plane, complete with nipples.  (There's also some male nudity on display, particularly in the humorous bonus chapter.)
This one may be hard to find.  CMX was DC Comics' attempt at creating a manga line, which was mismanaged and quickly folded.  Some of their titles were "rescued" for printing elsewhere, but not this one.
And now, the opening video of Mon Colle Knights, so you can see just how different a treatment it is.