Comic Book Review: 2000 AD #2020-24 Edited by Tharg
As I've mentioned before, 2000 AD is a weekly comic paper with a speculative fiction bent that's been published in Britain for over forty years.  It keeps up the schedule by featuring several short stories in each issue, most of them serialized.  A while back I c came into possession of the March 2017 issues, which seems like a good chunk to look over.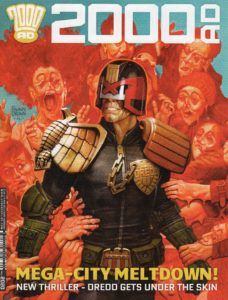 "Judge Dredd" has been a headliner in the magazine since the second issue, and stories set in the dystopian future of Mega-City One are in almost every issue.  We start with a two-parter titled "Thick Skin" written by T.C. Eglington with art by Boo Cook.  Two vid stars have their skin slough off on camera in separate instances.  Coincidence?  Plague?  Terrorist plot?  It's up to lawman Judge Dredd to investigate.
This is followed up by "The Grundy Bunch" by Arthur Wyatt and Tom Foster.  A family/cult that worships "Grud and Guns" has taken over one of the few remaining green spots in the city.  Despite the topical overtones, the story turns out to be a setup for a terrible pun.
"Get Jerry Sing" is by classic Judge Dredd team John Wagner and Carlos Ezquerra.  The title phrase is a bit of graffiti that's been appearing all over the city.  What it means is a mystery, but pop star Jerry Sing isn't happy about being a target.  This one has a karmic twist ending that brought a dark chuckle from me.
Lastly, there's the first part of a longer story, "Harvey" by John Wagner and John McCrea.  The Day of Chaos and subsequent disasters have left the Judges severely understaffed, and it will be a while before they can train new human ones.  So there's a renewed interest in the robot Judge program, Mechanismo.  Previous experiments with the artificial intelligences have proved disastrous, but this time, the Tek-Judges think they've cracked the problems with earlier models.  Judge Dredd is asked to take on "Judge Harvey" as a trainee, to see if this time robot cops are finally viable.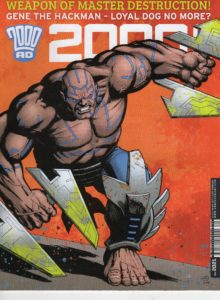 The "Sinister Dexter" series is about Ramone Dexter and Finnegan Sinister, a pair of gunsharks (hitmen) who live in the city of Downlode.  Due to shenanigans involving alternate Earths, the pair have managed to get themselves erased from human and computer memory, and are slowly re-establishing their reputations without the baggage of the past.  They're inspired by the hitmen from Pulp Fiction, but now bear little resemblance to them.
We have three stories in this group by Dan Abnett and Steve Yeowell.  First, the robotic security system for their new apartment building decides that Sinister and Dexter are a threat to the tenants.  A threat that must be eliminated.  The second story is from the point of view of the bartender at their favorite watering hole.  He doesn't remember their previous interactions, but does know there's something odd about the pair.  And finally, there's a new hitman in town, who calls himself "the Devil."  And his killing skills do seem…supernatural.
I find these characters smarmy and unlikable, but this sort of "not quite as bad guys" protagonist is popular with a segment of the readership.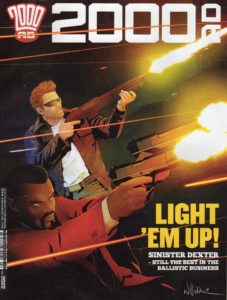 "Kingmaker" by Ian Edginton and Leigh Gallagher is a newer serial.  A fantasy world was having its own problems dealing with a wraith king, when suddenly technologically advanced aliens invaded.  An elderly wizard, a dryad, and an orkish warrior riding dragons are beset by alien pursuers.  When they finally defeat this batch of invaders by seeming divine intervention, the trio realizes they may already have found the chosen one.
Cyrano de Bergerac is the narrator of "The Order" by Kek-W and John Burns.  On his deathbed, the boastful writer tells of his experiences with the title organization, which does battle with beings known as the Wyrm.  Time has come unglued due to the latest Wyrm incursion, and a mechanical man from a possible future might or might not be the key to victory.  The Wyrm are driven back, but at a cost.
"Kingdom" by Dan Abnett and Richard Elson is set on a future Earth where humanity as we know it has been all but wiped out by giant insects known as Them.  The genetically-engineered dog soldier Gene the Hackman has finally found the "Kingdom", haven of the last humans.  Unfortunately, there are dark secrets in this supposed sanctuary, so Gene and his allies must strike even against the Masters.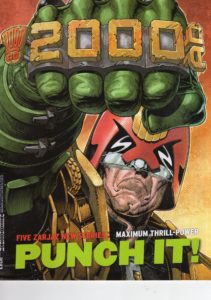 "Brink" by Dan Abnett and INJ Culbard takes place in the late 21st Century after Earth had to be abandoned due to ecosystem collapse.  Bridget Kurtis is an inspector for the Habitat Security Division.  After the horrific death of her partner on the last case, Bridget is assigned to investigate mysterious suicides on a new habitat that's reputed to be haunted…even though it's still under construction.
The latest installment of "Scarlet Traces", set in a world where H.G. Wells'  War of the Worlds took place is by Ian Edginton & D'Israeli.  Humanity's history has been twisted by access to Martian technology.  It's now 1965, and the Martians are doing something to the sun.  It may require allying with the Venusian refugees to thwart them.  This is fascinating alternate Earth stuff.
"Cursed: The Fall of Deadworld" by Kek-W & Dave Kendall is set in the backstory of Judge Death, the lawman from an Earth where life is a crime and the penalty is death.  Sydney D'eath has put himself in charge, twisting the world to fit his vision of a crime-free paradise.  We follow Judge Fairfax, his sentient vehicle Byke, and the orphan Jess as they search for a haven.  Doesn't look good for them, frankly.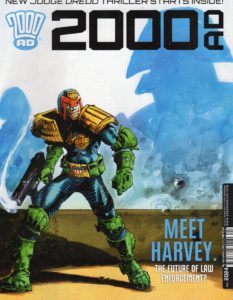 There's also two "Future Shocks", stand-alone shorts.  "The Best Brain in the Galaxy" by Andrew Williamson & Tilen Javornik features a descendant of Horatio Hornblower who will do anything to win a competition to become captain of the most important starship voyage ever.  Anything.  "Family time" by Rory McConville and Nick Dyer is a parody of a certain Hollywood couple who like adopting children from around the world.  Except that this version is adopting orphans from across time.  The Child Protective Services are concerned that these children may not be orphans in the usual sense.  I liked the first story better.
There's also the short humor strip "Droid Life" by Cat Sullivan  in a couple of issues, depicting life for the robotic staffers of 2000 AD.  Plus Tharg's editorials, and actual letters pages.
2000 AD stories tend to be on the violent side, and sometimes get quite gory.  I didn't see any nudity in these particular issues, but the comic doesn't shy away from toplessness.  Parents of preteens may want to vet these comics before giving them to their kids.
As always, it's a mixed bag for quality, but the very nature of the magazine means that there's always something different to look at if the current story displeases, and serials are rotated frequently.  worth looking into if you can afford it.