Book Review: How We Came to Know the Cosmos: Space & Time by Helen Klus
Disclaimer:  I received a download of this book through a Goodreads giveaway to facilitate this review.  No other compensation was requested or offered.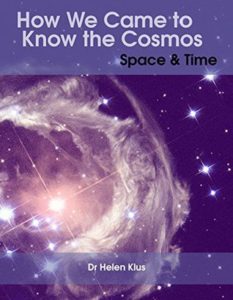 The universe is very large, while humans are very small.   We inhabit only an infinitesimal fraction of time and space.   Despite that, we know a fair bit about the vastness around us.  What we know about space and time, and how we learned it, is the focus of this book (which is Part I of II.)
The book starts with a look at constellations, one of the first attempts by humans to make sense of the lights of the night sky.  Then there's a history of philosophy and science's growing understanding of how the universe is shaped and how it works.  There is a section on stars, then the objects in the Sol solar system (Pluto is shuffled off to the Kuiper objects section.)  The book finishes up with the search for exoplanets, and the possibility of alien life.
There's quite a lot of math involved, as the text delves deep into physics (especially astrophysics) along with some chemistry and biology.   And the writing tends to be dry with a few human interest points at rare intervals.  A bright senior high school student should be able to get through this volume, but it's really more of a college level introduction to the subject.  (Note: this is a "science as it is currently known" book; some religious people may feel slighted by their own theories not being mentioned.)
The Kindle version has both good points and drawbacks.  The footnotes and reference links for each chapter are fully functional, and if your wifi is up, you can go straight to the NASA webpages with more information.  My Kindle is monochrome, so a number of the color illustrations did not work so well for me.  Also, I could not find an index.
This is a British book, and the spelling reflects that.  I did spot a couple of spellchecker typos very late in the volume, suggesting that the proofreader started skimming.
I would recommend this book primarily as a reference work for those with an interest in current space science.  Especially if you're the sort of person who wants to know a full list of robotic probes which have gone out to  celestial objects and how they fared.
Or, if you prefer visuals, here's Carl Sagan!