Magazine Review: Ellery Queen's Mystery Magazine, January 1977 edited by Ellery Queen
Having enjoyed a recent issue of this magazine, I decided to root around for an older copy.  This one was published in December 1976, but the cover date was a month ahead.  Frederic Dannay (half of the "Ellery Queen" writing team) was still editor at this point, as he would be until 1981!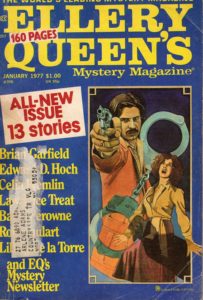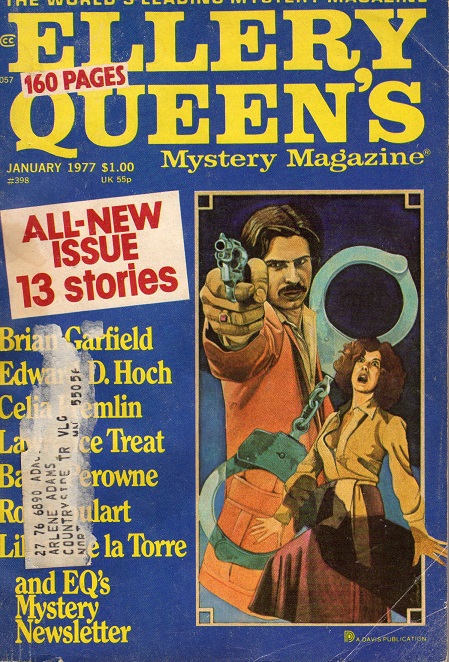 We open with "Jode's Last Hunt" by Brian Garfield.  Mr. Garfield is better known as the writer of Death Wish,  which was turned into a hit movie starring Charles Bronson.  This story, his first in EQMM, stars Sheriff Jode, who was a big hero in his Arizona county when he first started.  But that was a couple of decades ago, and between  competent policing and a naturally low crime rate, Jode hasn't hit the headlines in years.  When a former rodeo and movie star turns eco-terrorist, the near-retirement sheriff sees one last chance at fame.  This one was collected in Great Tales of Mystery and Suspense in 1985.
"The Final Twist" by William Bankier is set at a small advertising firm where the boss is a bad person who managed to offend each of his workers individually and as a group.  His employees decide he needs to die, but they want to make it look like suicide.  How can they best use their skills to this end?  This one was turned into an episode of Alfred Hitchcock Presents in 1986.
1976 was the year of the Bicentennial, the 200th anniversary of the signing of the Declaration of Independence.  Thanks to that, there was a huge market for stories set during the American Revolution and 1776 in particular.  Fitting in one last story on the theme for the year is "The Spirit of the '76" by Lillian de la Torre.  It details a bit of secret history when Benjamin Franklin's grandson is kidnapped and Dr. Sam: Johnson is tapped to track the lad down, with the help of faithful Boswell, of course.  The story perhaps is too eager to have Mr. Boswell praise the inventive American, especially given the political situation.  This one was collected in The Exploits of Dr. Sam: Johnson, Detector in 1987.
"To Be Continued" by Barbara Callahan is about a young soap opera fan who discovers that she has an unexpected connection with one of the characters.  There's a surprisingly sympathetic portrayal of a gay man for the time period, but the treatment of mental illness may strike some readers poorly.  I did not find any reprints of this one.
"C as in Crooked" by Lawrence Treat is a police procedural starring Detective Mitch Taylor.  He's assigned to look into a burglary involving a very rich and important man (which is why a homicide detective is working a burglary case.)  Mitch quickly notices that the person in charge of security for that and several other robbed homes is an ex-police officer.  Personal problems for both Mitch and his boss delay the investigation until the next morning, when it has become a murder case.  Mitch cracks the case, but he may not get the credit.  I did not find any reprints of this one.
"'Twas the Plight Before Christmas" by Hershel Cozine is a poem parodying the famous A Visit from Saint Nicholas and has Santa Claus being murdered by Ebenezer Scrooge.  Don't worry, kids, there's a happy ending.
There are two "Department of First Stories" (authors being professionally published for the first time) entries in this issue.  "After the Storm" by L.G. Kerrigan is a short piece about a murder during a rainstorm.  It's vivid but slight.  "A Pair of Gloves" by Richard E. Hutton is a chiller about a man trying to buy a Christmas present despite the presence of a downer street person who seems to have a grudge against the store.  The ending is telegraphed.  Neither seems to have been reprinted.
Four brief columns follow, two of book reviews (one blatantly pushing items for sale by the magazine's publisher), one of movie reviews (The Seven-Per-Cent Solution and Marathon Man are highlighted) and a short interview with Dick Francis, former jockey and famous for his racing-related mysteries.
"With More Homage to Saki" by Isak Romun is a short tale of a wealthy gourmet who will do anything to keep his personal chef working for him, up to and including blackmail.  But the chef has prepared his own delicious dilemma.  Foodies will enjoy this one best, I think.  Another I cannot find a reprint of.
Next up is from "The Department of Second Stories", where EQMM also bought the author's second effort.  "The Thumbtack Puzzle" by Robert C. Schweik features Professor of Bibliography Paul Engle.  During a talk the professor is giving, the narrator (his bookstore-owning friend) discovers that a visiting chemist's work has been tampered with, and perhaps stolen.  There's only a handful of viable suspects, but which, and can it be determined with only a thumbtack as a clue?  The solution hinges on the peculiarities of German typewriters.  No reprint here, either.
"Raffles and the Shere Khan Pouch" by Barry Perowne has the gentleman thief (and devoted cricket player) and his sidekick Bunny visiting India.  There they run into Rudyard Kipling and Madame Blavatsky while attempting to steal rubies.  This is made more complicated by a British diplomatic pouch having gone missing, making the authorities more alert.  There's perhaps a bit too much coincidence for the story to be plausible, and the epilogue spells out who Kipling is for particularly obtuse readers, but Raffles is always a delight.  This story was reprinted in Raffles of the M.C.C. in 1979.
"Please Don't Help the Bear" by Ron Goulart is the sad tale of a Hollywood animator with a fur allergy and a penchant for another man's wife.  Mr. Goulart is perhaps better known for his science fiction, but mostly for his humor, though this time it's gallows humor.  The narrator is his "Adman" character who has a habit of meeting murderers and murder victims and never saving one.  This story may or may not be reprinted in Adam and Eve on a Raft: Mystery Stories published in 2001.
"Etiquette for Dying" by Celia Fremlin concerns a woman whose social climber husband has taken ill at a dinner party whose hostess is well above their class.  Is he just rudely drunk or is there something more sinister going on?  This one is reprinted in A Lovely Day to Die and Other Stories (1984).
And finally, we have a story by prolific author Edward D. Hoch, "The Problem of the Christmas Steeple."  It's a Dr. Sam Hawthorne story, as the retired physician remembers the winter of 1925.  A parson is found stabbed to death in a steeple, the only suspect being the "gypsy" chief found in the steeple with him.  But due to physical infirmity, that suspect could not have committed the murder.  The treatment of "gypsies" may rankle modern readers, but it's a story written in the 1970s about the 1920s.  This story was reprinted in Diagnosis: Impossible: The Problems of Dr. Sam Hawthorne (1996).
There are also a couple of limericks by D.R. Bensen, typical of the genre.
This is overall a good issue, with some fine writers.  You can try combing garage sales, but you might have better luck contacting other collectors.
And now, an audio adaptation of "The Problem of the Christmas Steeple":
https://www.podomatic.com/podcasts/eqmm/episodes/2015-12-01T09_27_41-08_00