Book Review: Outlaws of the Atlantic: Sailors, Pirates and Motley Crews in the Age of Sail by Marcus Rediker
Disclaimer:  I received this book as a Goodreads giveaway for the purposes of this review.  No other compensation was offered or requested.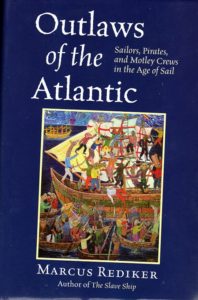 During the Age of Sail, the deep ocean sailing ship was one of the most advanced technological wonders of its time.  But such a complex device required many workers to keep it running smoothly and keep it from collapsing in times of danger.  So there rose the class of people known as the common seaman; sailors who were essential to the ship as a group, but entirely replaceable as individuals.
Often ill-used, to the point that they often compared themselves to slaves, sailors developed their own subcultures and began "resistance from below"; most notably creating the "strike" when an entire harbor's sailors struck  (took down) the sails of the ships they were on and refused to work until they got better conditions.  Sailors became both the creators of and spreaders of rebellion against the cruel social order of their day.
Mr. Rediker is a professor of Atlantic History at the University of Pittsburgh, and this is a collection of short pieces he's written on the general theme of "resistance from below" as it relates to the Atlantic Ocean in the Age of Sail.  He talks a lot about "antinomianism" (the idea that one is primarily saved by faith, rather than obedience to law), and "hydrarchy" (rule by the sea, often connoting rule of the lowly many as opposed to the official hierarchy).
The book begins with an examination of "the sailor's yarn" and how it was used to spread information both useful and dubious, influencing Western literature among other things.  It moves on to the stories of two men that demonstrate that history also includes ordinary workers and castaways.
In an essay on pirates during the Golden Age of Piracy 1650-1730, emphasis is laid upon the efforts of pirates to democratize their ships; pirate captains were limited in authority, unlike merchant or military captains whose word was law, and whose punishments were untempered.  This indeed was one of the reasons pirates found favor in popular culture; for all that they were criminals, they also had a kind of freedom seldom seen at the time.
There's another essay on how "motley" (multi-ethnic) crews of sailors helped spread the ideas that led to the American Revolution; though the wealthy stepped in to keep the Revolution from going too far towards mob rule as they saw it.
There is a chapter on slave rebellions aboard the ships carrying them to the New World, usually doomed, and a separate chapter for the case of the Amistad, which turned out much better than could have been hoped.  The latter chapter looks at how conflating the Amistad freedom fighters with pirates helped influence American attittudes towards the men from Sierra Leone.
There are several black and white illustrations, copious endnotes and an index.
This book very much feels like an introduction to the theme of rebellion in Atlantic Ocean history, and as such I would recommend it to the casual student looking for a quick read on various aspects of the subject.  Professor Rediker's other books appear to go into much more depth on the individual subjects involved, such as slave ships and piracy.  Based on his work here, those should also be interesting.
If these sound like topics you'd be interested in, check your lending library system to see if they've got this book in stock.