Book Review: Infinity Two edited by Robert Hoskins
Infinity was a series of paperback science fiction anthologies from Lancer Books in the early 1970s.  Its primary draw was that all the stories were new, not having been previously printed in magazines.  By this point, science fiction writers were allowed to mention sex and other controversial topics (thank you, Dangerous Visions) but they did not always do so in a healthy manner.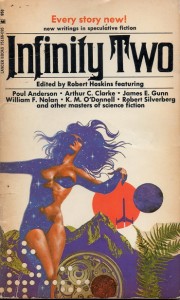 The introduction, "The Alien Among Us", talks about ecology and pollution, and the possibility that some force is trying to kill off the human race.
"Murphy's Hall" by Poul and Karen Anderson is one of the more experimental pieces, tying together several failed space missions and the miserable life of a boy left behind on Earth.  Depressing ending, but one that seems all too plausible now.
"The Monster in the Clearing" by Michael Fayette is an Adam and Eve story, with a computer giving instructions on how not to screw up humanity's second chance.  The National Rifle Association is one of the things the new god plans to ban.  However, when did humans ever do what they were supposed to?
"The Scents of IT" by J.F. Bone stars Xar Qot, a member of the Mallian species, which are essentially sentient lobsters with a society based on cannibalism.  When a couple of pesky visitors come to the planet, Xar Qot sees a way to help his human ally George Banks, and advance his own ambitions.  I'm going to talk about this story and some possibly triggery subject matter in the Spoilers section below.
"The Road to Cinnabar" by Ed Bryant is another experimental piece, this one about a labor organizer in a far future city that seems to be dying.  The ending is kind of blah, with a bit of philosophy.
"The Technological Revolution" by James E. Gunn is a horror piece when a woman's labor-saving devices all go on the fritz at once.  Is there a conspiracy of the machines to kill her, or is the ghost of her Luddite grandmother running a false flag operation?
"Elephants" by K.M. O'Donnell is a depressing piece about the last circus performance of the universe–very stylistic and fatalistic.
"The Other Way Around" by Howard L. Myers is set in the Dark Ages, as a teller of tales tracks down Merlin.  Merlin is not what you'd imagine, and he's discovered a terrible truth about time travel.  Also kind of depressing.
"Legion" by Russell Bates continues the trend of depressing stories as a multiple transplant recipient is unable to cope with what has happened to him.
"Gorf! Gorf! Gorf!" by William F. Nolan is at the other end of the seriousness spectrum, as a frog eats a bunch of growth pellets and grows to kaiju size.  Now the government needs to try to solve the problem.  The story abruptly moves from New York to California and backin a nonsensical way, and the ending is an anticlimax.
"Timesprawl" by Anthon Warden is back to depressing.  A recently unemployed man gets the chance to relive the last year of his life, which he plans to use to take revenge–but there's an icky twist.
"In Entropy's Jaws" by Robert Silverberg has a telepath come unstuck in time with random fugues of flashback and flashforward.  Unlike some of the other stories here, Mr. Silverberg makes the experimental format work well for him.  Probably the best story in this volume.
"Reunion" by Arthur C. Clarke closes out the book with the return of the human race's true progenitors.  It seems they have a cure for the plague that made them flee millenia ago…but will the Earthlings want it?  Edgy then, kind of silly now.
Overall, a mediocre collection, I'd recommend it to Silverberg completeists and garage sale pickups and not much else.
SPOILERS
So, "The Scents of IT".   Mr. Bone was a professor of Veterinary Medicine, which may explain the focus on alien biology.   This is clearly meant to be a silly pun-based story, but it turns out to be really problematic by today's standards.  We learn that the evil feminists have triumphed and turned humanity into a matriarchal society (more like a thin veneer of matriarchy over an egalitarian  society, really.)  George Banks laments that social conditioning prevents him from just raping the woman he wants.
The woman in question is Shirley Copenhaver, who despite being so pretty even sentient lobsters can tell, refuses to give George Banks (or any other man) the sex he deserves.   Banks is also upset with her because she's an ethnologist who does her job, studying alien cultures and writing books about them.  Which indirectly resulted in the destruction of one such culture when a corporate entrepreneur read the book and realized how to commercially exploit them.  Why Banks doesn't blame the entrepreneur  who actually did the deed is unclear.
Xar Qot realizes that the pheromone male Mallians exude that allows them to dominate and predate upon the more numerous females also works to some extent on human women.  So he sets up a situation where Banks can "seduce" (commit chemically-assisted rape) Copenhaver, as apparently Banks doesn't consider this to be rape.
The next day,  when Copenhaver has recovered her senses and is understandably furious at Banks and Xar Qot, she walks into an ambush and is chemically-assisted raped again.  This makes her fall in love with Banks and give up her career to be his housewife.   Banks and Xar Qot  then mass-produce the pheromone which the men of humanity use to overthrow the matriarchy and install a patriarchy, as is the proper status of society.  Happy endings all around!
Well, except for gender-queer human Hector Marks, who is eaten alive just before he can finish his book on Mallian culture.
This story is…wow.  Just no.   I am aware it's supposed to be comedy, but the passage of time has spoiled the joke.