Movie Review: All-American Co-Ed
The movie starts with chorus girls' feet and legs kicking behind the title sequence.  Then the camera is pulled back and we discover that the "chorus girls" are all men.  The Zeta Fraternity of all-male Quinceton University are putting on a drag revue.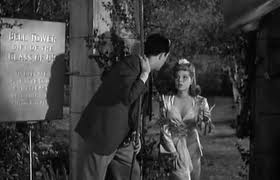 Matilda Collinge (Esther Dale) sees a description (but no pictures) in the paper and strongly disapproves.  As president of Mar Brynn Horticultural College, she would never allow such shenanigans on her all-female campus.   Still, enrollment has been falling off, and the college needs something to boost its profile.
Matilda's publicist Hap Holden (Harry Langdon), a newspaperman, and her niece Virginia Collinge (Frances Langford) come up with an idea.  Rather than only admitting upper-crust girls, this year the college will offer scholarships to twelve young women from across the country who've won contests with their produce (who also look pretty.)
As an additional attention-grabber, these scholarship students will be referred to as "likely to succeed" in direct contrast to the loathsome oafs of Quinceton's Zeta fraternity.  When this dig comes to the boys' attention, they decide to dress up Bob Sheppard (Johnny Downs) as Flower Queen Bobbie DeWolfe and submit that picture.  Bobbie is chosen, so now Bob must go undercover as his alter ego, to seek revenge for the Mar Brynn slight.  Hilarity ensues.
This 1941 musical comedy has a disclaimer that "any resemblance to actual college life is purely coincidental."  It's from a time when "man in a dress" was considered comedy gold all by itself, and then adds some gags.  Let's face it, Bobbie desperately trying to not be unmasked before "she" achieves her goal leads to some pleasant silliness.  I note that the disguise is helped by fashions of the day giving every young woman linebacker shoulders.
The first few songs are good, but the final agriculture-themed performance just drags on with labored rhymes.
Less good stuff:  There's 1940s-style sexism, as Virginia declares, "Girls don't want minds, Auntie, they want a husband!"  One comedic sequence turns on the stereotype of black people being superstitious and a little dim.  And sexual harassment is played for laughs, because it is just so hi-larious when a man is doing it to another man under the impression he's a woman.
You may not want to watch this one with younger viewers in light of the last thing, or be prepared to remind them that in real life sexual harassment's not funny.
This was nominated for two Oscars, so clearly has some merit, but it's a specialty taste.