Book Review: The World Grabbers by Paul W. Fairman
Dane Morrow feels like a failure.  He used to be a bright young man, enthusiastic about becoming a writer, and seeing a lovely young woman.  But his stories didn't sell, and his book vanished into the publisher's slush pile without trace.  Plus, Dane began to feel there was something missing from his life.  He tried studying Eastern philosophy, but nothing clicked and he lost interest in keeping jobs.  Now, he's been dumped, and is down to not quite enough money to pay the week's rent at the downmarket rooming house he's been reduced to living in.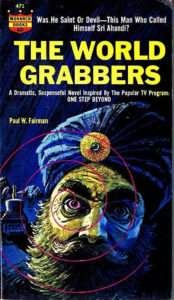 That's when Dane sees an advertisement for a lecture by a swami called Sri Ahandi.  Supposedly, this man has some information about human potential that allows his disciples to become successful.  Dane is skeptical but somehow intrigued; as he has nothing better to do, he goes to the lecture.
Sri Ahandi (nee Robert Jones) at first seems to be peddling the sort of "power of positive thinking," "law of attraction," "prosperity gospel" hokum that many gurus pass off as wisdom.  But as Dane becomes acquainted with the people in Sri Ahandi's circle, and strange coincidences begin piling up, it becomes apparent that this teacher has something more than empty words up his sleeve.  Especially as the mysterious man who calls himself William White is insistent that Dane should sever his association from Sri Ahandi immediately for his own good.
This book is marketed as having been inspired by One Step Beyond, a television program that ran from 1959-1961 with tales of the supernatural and psychic powers that were allegedly based on real events.  However, this particular story is just plain fiction.
I shared Dane's frustration as the people he talks to continually evade straight answers and explanations, though none of them precisely lies.  (There are characters who heavily slant their perceptions of what they're doing to put themselves in the right.)  Still, there's enough information that Dane should have figured out that Sri Ahandi was bad news well before he sees it for himself.
It seems that Robert Jones was a faith healer who was nearly lynched for attempting to save a girl's life.  Embittered, he came to be trained by the Enlightened Ones (they don't use that name themselves) in certain advanced mental techniques.  He cut his training short to come back to America and become a guru.  Sri Ahandi has gathered a group of people ruled by greed to give them the ability to gain money hand over fist as the first part of his plan to gain world domination.  He seems to think he will rule benevolently, but eggs, omelets.
To his credit, once Dane realizes the collateral damage Sri Ahandi is causing people, he tries to fight the guru.  Alas, he has no such mental powers, and the Enlightened Ones are pacifists who will not interfere beyond words to the wise.   Will Dane's courage and refusal to cross a moral line save the day?
There's an attempt to have a love triangle between  Dale, his ex-girlfriend Marcia, and Sri Ahandi's top disciple, the unprincipled Veda.  This aspect of the story is rather wooden, and in the end matters little at all.  Dale's relationship with the annoyingly vague William White is much more interesting.
Perhaps the best bit of the book is one of the minor characters describing Sri Ahandi's methods as applying Western efficiency to Eastern training so that one doesn't have to spend decades in a drafty mountain cave somewhere to become a more effective person.  Which sounds great until you see the burnout rate.
The book is very much a product of the early 1960s, and I don't believe has ever been reprinted.  You might be able to find a copy in used bookstores or garage sales.  More of a curiosity item than a must-have.
Speaking of One Step Beyond, here's the opening: