Comic Book Review: Showcase Presents: The Brave and the Bold Batman Team-ups, Volume 1  Written by Bob Haney (mostly), Art by various
The Brave and the Bold started its publication run in 1955 as an adventure anthology, featuring such characters as the Viking Prince and the Silent Knight.  Around issue 25, it switched to a tryout title for new concepts such as the Justice League of America and Strange Sports Stories.  Then in issue #50, the series switched to being a team-up title featuring seemingly random pairs of DC's superheroes, the first such story teaming  up Green Arrow and the Martian Manhunter.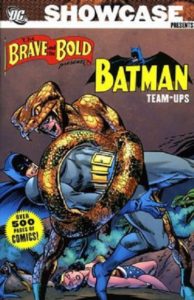 In issue #59 (1965), Batman was teamed up with Green Lantern against a villain known as the Time Commander.   This criminal scientist had developed technology that well, commanded time.  But it could only do minor effects until the Commander disguised himself as Batman to trick Green Lantern into energizing the device with his Power Ring.
Bizarrely, Time Commander divided his attention between using his hourglass to commit heinous crimes…and attempting to clear himself of a previous crime attributed to his civilian identity.  The story never reveals whether or not he did the previous crime.
Thanks to his television show, Batman was hot at the time, and the issue sold very well.  He appeared more often than any other character in TBatB, and eventually became the permanent "host" for these team-ups.  Thus, this volume only contains the stories with him.
Bob Haney was a very uneven writer, and some stories are terrific, like the first Deadman team-up (with art by Neal Adams!) while others are dreadful.  Mr. Haney was especially noted for not paying attention to continuity or characterization from other writers; thus some of the guest characters come off as warped reflections of themselves.
Particularly bad is #78, which graces the cover of this collection.  Batman is up against a slippery thief named Copperhead, and having a little difficulty catching him.  So the Caped Crusader calls in Wonder Woman and Batgirl to help.  Not, mind you, to help him search for the villain's hideout or catch the crook.  No, the plan is for these two powerful heroines to pretend they're both madly in love with Batman and have public catfights about it.
The idea is that Copperhead will believe that Batman is distracted by his love life and get careless the next time he steals something.  This plan is derailed when both heroines get too into it and actually fall in love with Batman.  And then they become distressed damsels that Batman must rescue from the scaly foe.
Nor is this the only poor showing on the sexism front, as one story has Batman spank a woman in public to shame her into reforming.   (She falls in love with him for it.)
There are also stories with Native Americans and Chinese-Americans that are well-meant but come off as racist.  And some weird stuff with sideshow performers.
That said, there's a lot of goofy Silver Age fun here, and some nifty art by artists like Neal Adams and Ramona Fradon.
The final issue in this volume is #87, featuring Mike Sekowsky on both writing and art.  The guest star is Wonder Woman during her "powerless" period when she hung out with a blind martial arts mentor named I Ching.  She and Batman investigate shenanigans around an international race track.  It includes a moment when Diana could have saved the day, but Batman insists on driving with a concussion.
Recommended to Batman fans who enjoy a lighter version of the character.  If you have a particular fondness for one of the guest stars, check this volume out at the library.
There's a cartoon inspired by this run of the comic book, so enjoy the opening!