Manga Review: Hunter X Hunter Volume 1 by Yoshihiro Togashi
On a world a little bit like Earth, Gon Freecs has been raised on an isolated island by his Aunt Mito.  Although she told him his parents were both dead, Gon learned a while back that his father Ging Freecs was in fact still alive, and a powerful Hunter.  The Hunter Guild is a professional adventuring organization that seeks out new lands, animals, treasures or anything else that takes a member's fancy.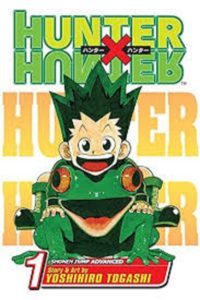 Having reached the age of twelve, Gon now qualifies to take the Hunter Exam and earn his license.  He corners his aunt into allowing him to try the deadly test (each year a sizable fraction of applicants die.)  Mind you, first Gon must survive the journey and find the location of the test, since finding the Exam site is part of the competition!
This fantasy adventure series is by the creator of YuYu Hakusho and Level E.  It was partially inspired by Togashi's love of collecting things and seeing other people's collections.  It's still ongoing, but the creator's health issues have caused several long hiatuses between parts of the story.
On the ship to the first destination, Gon meets the androgynous Kurapika, last survivor of the Kurta Clan.  That person's people were slaughtered for their beautiful eyes, and Kurapika wants to become a Hunter to track down their killers and retrieve the eyes.   (Kurapika's gender was a mystery for years until it was finally revealed in a sourcebook.)  They also encounter Leorio Paradinight, who grew up in poverty.  His best friend died from a disease that could have been cured if he'd had the money to pay for treatment.  Thus Leorio wants to get enough cash to get a medical degree and license, and then treat the poor for free.
There's a certain amount of friction at first, but the three soon become friends.  They support each other through the journey to find the Exam.
At the exam site, the trio meet Tonpa, an experienced examinee who's failed the test multiple times.  While he seems friendly, Tonpa is actually a "rookie crusher" who is less concerned with passing the Exam than in destroying other applicants' hopes.   We also learn of Hisoka, who looks like a clownish magician but is in fact a ruthless killer with a cruel streak.
On the brighter side, Gon meets Killua Zoldyck, who has run away from his family of assassins to take the exam.  Despite being one of the deadliest people alive, Killua becomes a good friend of Gon's.
The first two stages of the exam are already making people drop out (or drop dead) but then Hisoka decides he wants to have a little fun….
As is often the case in shounen manga, protagonist Gon is one of the least interesting characters.  His "find my father" motivation moves the plot at first, but it's more of an excuse than anything else–we won't see any movement on it for a long time.  And Gon's mother is a non-entity, while Aunt Mito vanishes after the first chapter.
The three companions are much more interesting, with contrasting personalities.  My favorite is Leorio, who is a bit older than the others and much more of an "average joe" who barely keeps up.  The contrast between his greedy outer persona and his actual motivations makes him more complex.
There are a bunch of interesting looking minor characters, most of whom soon vanish; and the monster designs range from cool to creepy.
It's not too much of a spoiler to say that Gon passes the Exam and becomes a Hunter, at which point the really interesting plots begin.  Be prepared for characters and subplots to vanish for long periods of time, and at some point you will hit the most recent volume and then have to wait ages for the next installment.
Still, this is very good shounen battle manga, and well worth looking into.
There have also been some anime adaptations, here's the opening from one: