Manga Review: Vagabond Volume 2  by Takehiko Inoue
Quick recap: In 17th Century Japan, failed soldier Shinmen Takezo has reinvented himself as wandering swordsman Miyamoto Musashi.  Dedicating his life to perfecting his own style of swordsmanship, he travels to Kyoto and starts a feud with the Yoshioka school of kendo.  Unknown to him, his childhood friend Matahachi is also in town, and accidentally sets fire to the Yoshioka dojo.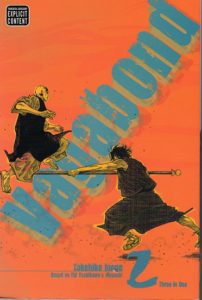 This volume opens with Musashi being nursed back to health by the rough-edged Buddhist monk Takuan.  Realizing he still has a long way to go, Musashi decides to travel to Nara, there to pit himself against the spear style of the Hōzōin Temple monks.  A chance encounter with an elderly gardener may be more valuable than any battle.
Musashi is distracted by thoughts of his other childhood friend, the lovely Otsu.  She's now the servant of a master of the Yagyu style of swordsmanship, who Yoshioka Denshichiro has come to train with in preparation for his next duel with Musashi.
Others are also on the road.  Gion Toji of the Yoshioka school is tracking Musashi to kill him, and is none too restrained about maiming other people along the way.
Matahachi's on the run because of the arson thing, and a chance encounter allows him to also reinvent himself as the respected warrior Sasaki Kojirō.  His sections of the story are tragicomedy, as he keeps having good intentions, but the flaws in his character prevent him from following through in a crisis, and we watch him make excuse after excuse for doing less than he ought.
Miyamoto Musashi is better at learning from his mistakes; while he is not the sharpest katana in the armory, he's partially grasped the concept of critical thinking and examining his own mindset.  Still has a long way to go before being the best swordsman in Japan though.
The successor to the Hōzōin spear style, Inshun, has his own issues.  He's a natural combat genius who has never known "fear", or had a truly serious challenge to his skills until now.  Thus his growth has stalled; Inshun must learn how to deal with defeat to become stronger.  His multi-chapter duel with Musashi is the centerpiece of this volume.
The art is stellar, but much of the credit for the plot and characterization must go to Eiji Yoshikawa, author of the novel this manga is an adaptation of.
There's a lot of violence in this volume, some of it quite bloody.  There's also a brief sex scene with female nudity–this is a "mature readers" title.
This continues to be a good choice for fans of samurai action stories.