Book Review: The Deaths of Tao by Wesley Chu
Note: This is the sequel to The Lives of Tao and this review may contain SPOILERS for the previous volume.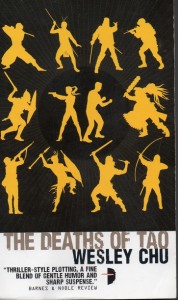 Millions of years ago, the Quasing crashed on Earth.  They could not survive in Earth's atmosphere, and were forced to piggyback inside the native lifeforms.  They managed to survive until a semi-intelligent lifeform appeared.  Since then, the Quasing have guided the humans to create a civilization advanced enough to achieve space travel so that the aliens can get back home.  However, a while back the Quasing split into two factions.  The Genjix consider the humans a servant race to be used and discarded; humanity owes everything it has to the Quasing, and must be prepared to have it taken back.  The Prophus ("betrayers") think of the humans as partners and want them to have free will.
Now, the Genjix are within sight of achieving one of their major goals–which will have the side effect of wiping out the human race as we know it.  The embattled Prophus and their human allies must find a way to survive and if possible stop this plan–even if it means being stranded on Earth forever.
We have six viewpoint characters in three pairs.  Roen Tan is a former computer whiz who is now the partner of the title character Tao (who used to be the partner of Genghis Khan, among other things).  He's turned into one of the top agents of the Prophus, but has gone off the reservation for the last couple of years chasing down leads to the latest Genjix plan.
Which has led to a separation from his wife Jill Tan, a Washington, D.C. political aide.  Her partner is Baji, who previously inhabited Roen's trainer Sonia.  Jill is fighting her own battle against Genjix-sponsored legislation that fits into their world domination plans…somehow.  Something in the complex bill is a deadly trap, but what?
Meanwhile, Genjix Council member Zoras has exhausted his current vessel, and now enters Enzo, a specially-created and trained ubermensch.  Enzo has been designed from birth to be the perfect vessel for one of the Holy Ones, smarter, stronger and more ruthless than any mere human.  Unfortunately, he is well aware of this, and is determined to demonstrate this superiority, which clashes with Zoras' master planner mindset.  They are in charge of the latest Genjix project, which is achingly close to completion, if they can just hold off the Prophus a little longer.
This science-fiction thriller is fast-paced with interesting characters and a premise that allows both good guys and opponents to show up in surprising ways.    The Quasing being behind almost every event in human history (except the rise of Hitler; that was all us) does get a bit tiring–I'd have liked to have seen that humans have some initiative for positive action.  The Genjix are even behind global warming!
The bad guys indulge in a bit of torture, as well as murderous medical experiments.  There's also a lot of conventional military violence.
The ending really shakes up the status quo, and Mr. Chu promises that things will get even worse for the characters in the sequel–I'm looking forward to that.
Recommended to SF thriller fans and secret history buffs.